Major works aim to bring museum and grounds back to former glory
Work has begun on the first phase of a multimillion pound restoration of Gunnersbury Park.
The major works to the museum and grounds, off Popes Lane aim to bring them back to their former glory as well as giving the borough a state-of-the-art sporting hub for the boroughs of Hounslow and Ealing.
Councillor Steve Curran, Leader of Hounslow Council and Councillor Julian Bell, Leader of Ealing Council, were on site to officially launch the project.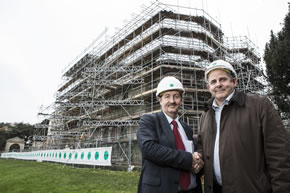 The park will remain open while the first phase of the project – a £21million transformation of the mansion house is carried out, but the museum will be closed until 2017.
The project, which is being joint funded by Hounslow Council, Ealing Council, the Heritage Lottery Fund and the Big Lottery Fund, will transform Gunnersbury Park and Museum into a major local, national and international centre of learning.
The museum will shine a light on the history of the area, its agricultural heritage, industrial past, urbanisation and multicultural wealth.
Once completed, the £40million regeneration of the site will be home to a sports hub, with indoor and outdoor facilities, eight floodlit tennis courts, eight grass football and rugby pitches and three cricket pitches.
Throughout the park historical features such as the landscaped gardens will be restored.
The grounds contain 17 listed buildings – four of which are at-risk Grade II-listed outbuildings.
Councillor Curran said: "It's very exciting to get the regeneration of Gunnersbury Park and Museum underway. It's a fantastic opportunity to leave a legacy for both boroughs that will be enjoyed for generations to come.

"It will make best use of the grounds providing a great backdrop for some excellent sporting facilities."
Councillor Julian Bell added: "This is a big step towards realising our 15-year masterplan for Gunnersbury's 100-year anniversary in 2026.

"The project is a massive undertaking, but we want to get it right. It involves large elements of preservation and restoration work which, when finished will bring the park's historic buildings back to life and cement an amazing legacy for future generations to enjoy."
November 29, 2015