After 40 firefighters spend seven hours bringing blaze under control
Firefighters have spent the night damping down yesterday's fire in a metal recycling yard on Scrubs Lane in Willesden, which caused a huge plume of smoke to hang in the sky over West London.
London Fire Brigade reported that the fire was under controle at around 10pm last night, April 24.
Eight eight fire engines were called to the scene and around 40 firefighters fought to control the blaze for around seven hours.

The fire brigade reported that in the year, around 3,000 tonnes of scrap metal was alight, and advised people living nearby to keep windows and doors closed because of smoke.
Station Manager Pushminder Vagarwal, who was at the scene said: " Our fire crews are working really hard to get this fire under control but it's likely that we'll be here for some time. There is a lot of smoke from the fire and we would advise any residents living nearby to keep their doors and windows closed."

The Brigade was called at 2.48pm, with fire crews from New Malden, Willesden, Park Royal, Chelsea, Hammersmith, Paddington and Bethnal Green fire stations tackling the blaze.
The blaze could be clearly seen from Hammersmith, Shepherd's Bush and Chiswick.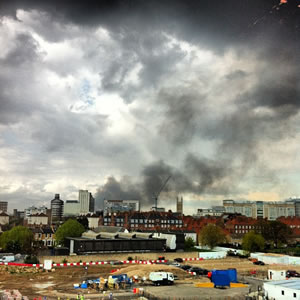 View of the fire from Hammersmith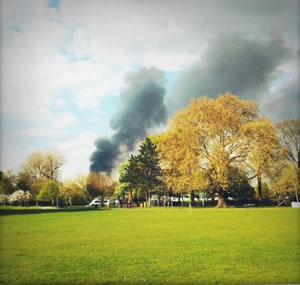 View of fire from Acton Park

Picture: @jonno101101
There have been no reports of any injuries at this point, and the cause of the fire is not known at this stage.
April 25, 2012