Hope to reunite residents with their property
Related Links
If you think any of the items in the photo set are yours, email helen.foster@met.police.uk, quoting the reference number, or call Ealing Burglary Unit on 101
Participate
Comment on this story on the forum
Police in Ealing have released images of recovered jewellery items believed to have been stolen during burglaries.
The images can be viewed in 'Flickr' within the 'Ealing Burglary Unit' photo set under the member called 'Metropolitan Police Service' or by using this link https://flic.kr/s/aHsjWtaytM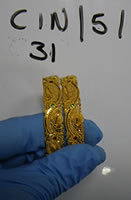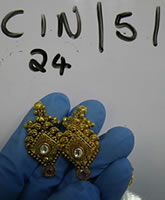 (Examples of the recovered items, with reference number above)
Detective Constable Helen Foster, Ealing Burglary Unit, said: "We are releasing these images in the hope of reuniting owners with their property. Many of the items seem to be of high value although I am sure in many cases the sentimental value outweighs the monetary aspect. If you recognise any of the items please get in contact. Contact details are attached to each image."
April 9, 2014