Class A drugs found in car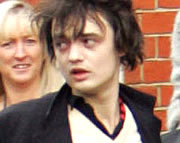 26 year old Babyshambles and ex-Libertines star Pete Doherty appeared this week at Ealing Magistrates Court, charged with possession of Class A drugs heroin and cocaine. This follows his arrest on November 30th, when he was stopped by police along Cleveland Road in the early hours for driving erratically. Suspicious substances were then found in his car.
The star was engulfed by a strong police presence, but only a small number of fans turned out in support. On being asked why he was an hour late, his representative put it down to traffic problems and being followed by a number of individuals. The traffic problems may have been down to the closure of the North Circular that day.
His court appearance in Ealing follows a series of contretemps with the law over drugs and driving. Police decided to take no further action after he was arrested in Shrewsbury in October after a Babyshambles concert. Only three weeks after his arrest in Ealing in November, he was again stopped by police in East London, where they found substances in his car and he is due to report back there in February. It appears that his time at the US rehabilitation clinic in Arizona also attended by Kate Moss has not had much effect.
12 January, 2006