Father-of-two Steve Lloyd has just months to live due to brain tumour
Related Links
To donate, text DLCC15 £3 to 70070 to donate £3 to fund vital brain tumour research
or via Virgin Money Giving
Participate
Comment on this story on the forum
The former manager at Ealing Common tube station has inspired an ambitious challenge which will see his former work pals cycling the length of the London Underground's District line.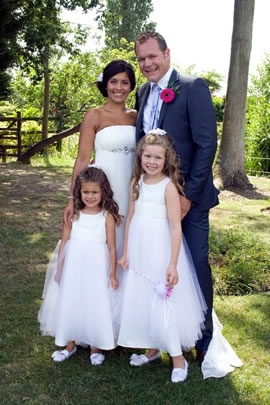 Steve and Angela renewed their wedding vows
Father-of-two Steve Lloyd who is just 39-years-old was told nine months ago that he had a year to live due to a brain tumour. This Sunday (23 August) five teams of five cyclists will take part ride, aiming to raise £15,000 for the charity Brain Tumour Research. Attending the event will be Steve himself. He spent the whole of his 22 year career with London Underground before retiring from work in January in order to spend more time with his wife Angela, 35, and daughters Bethany, 12, and Chloe, 10.
Angela said: "Steve was diagnosed with an aggressive and inoperable glioblastoma multiforme (GBM) brain tumour in 2008. Last October we were told he had around 12 months to live and we made the heart breaking decision to tell the girls they were going to lose their dad. Every six weeks Steve has a scan and, each time, we just hope against hope that there has been no change in his tumour. Sadly his latest scan has shown substantial growth and his consultant has advised us he has a matter of months left. This is making us more determined than ever to raise awareness and help raise more funds for research.
"It makes me very angry to think that this horrible cancer affects so many relatively young people like Steve, who turns 40 in September. It seems crazy to think that so little investment is made in this area. Where are cures, where are the medical breakthroughs, where are the clinical trials which could give us that precious extra time?"
Angela and Steve resolved to let their young girls know what was going to happen to their father, She explained, 'We have two daughters, Bethany, 12, and Chloe, 10. Just a few months ago we took the heart-breaking decision to sit them down and explain that their daddy was going to die.
'I sat next to Steve on the sofa and the girls sat opposite us. I didn't want to frighten them so tried my hardest not to break-down as I said: "You know daddy has been ill and has been having scans and treatment to help him feel better. Sadly, it isn't working and he is going to get very sick. We don't know how quickly it is going to happen or exactly what is going to happen but when we find anything out we are going to tell you." I went on to explain that there would come a time when daddy would die and wouldn't be with us anymore. They understand what this means.'
The family have taken the opportunity to travel widely in the short time they have together visiting Disneyland, Lapland and Australia and Steve and Angela renewed their wedding vows in Las Vegas.
Riders will use Santander Cycles to cover a total distance of 74 miles over ground, taking in all 61 stations along the District line. Each team will set off from a different terminus – Ealing Broadway, Richmond, Wimbledon, Edgware Road, and Upminster – finishing at Tower Hill. Each rider is collecting sponsorship and there will also be opportunities for the travelling public to donate at stations along the line in the run-up to the event.
The money raised will help to fund vital research at four Brain Tumour Research Centres of Excellence including one at Queen Mary University of London. Scientists there are investigating how brain tumours like Steve's, a glioblastoma multiforme, the most common and malignant type, develop in order to achieve better outcomes for patients.
Among the organisers of the District Line Cycle Challenge is Leon Hall, Upgrade Delivery Manager with TfL, from Southgate, north London. He said: " Through 22 years of service to the company and the travelling public, Steve has contributed so much to the Underground and London and is a well-loved character who left a positive impression on all those who worked with him. We don't believe anyone has done an event quite like this before and we hope it will be a great tribute to Steve."
Hugh Adams, Head of External Affairs at Brain Tumour Research, said: "We are enormously grateful to everyone who is involved in this highly original event and we hope as many people as possible will cheer them along and make a donation.
"Brain tumours kill more children and adults under the age of 40 than any other cancer … yet just 1% of the national spend on cancer research is allocated to this devastating disease. This is unacceptable!"
Brain Tumour Research helps fund an annual £1 million programme of research at its Centre of Excellence at the University of Portsmouth. Further partnerships announced last year with Queen Mary University of London and Imperial College, plus Plymouth University will pave the way for a £20 million investment in brain tumour research over the next five years.
August 19, 2015