Victim boarded bus in Acton after a night out with friends
Related Links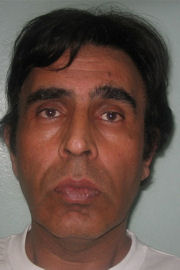 Kalash Vijay sentenced to 8 years in prison

Participate
Comment on this story on the forum
The bus driver convicted of raping a woman after she boarded the N207 bus in Acton was sentenced yesterday to eight years in prison.
Kalash Vijay, 42, a bus driver from Evergreen Way, Hayes was jailed at Isleworth Crown Court.
He was also placed on the sex offenders register for life. A Sexual Offences Prevention Order was also made, banning him from driving any public service vehicle (including buses, coaches, mini-cabs, taxis) whether paid, recreational or voluntary.
The victim, a 24-year-old woman, had been out with friends in Acton on the evening of Sunday 7 February, before boarding the N207 night bus at 02.44hs. The woman, who had been drinking, sat on the top deck of the bus and fell asleep.

CCTV images show the driver of the bus, Vijay, went upstairs at 03.16 and brought the victim downstairs. He then turned off the lights and showed the bus as out of service.
A little later Vijay stopped the bus in Dawly Street, Hayes, and dropped the victim off on the street before parking the bus at Hayes bus station, returning in his car and picking up his victim.

The suspect then took the woman back to his house, where he raped her, before dropping her back off at a station the following morning.

Vijay was found guilty on 9 December following a trial at Isleworth Crown Court of two counts of rape in February.

26 January 2011