Advanced technology including 3D printers to aid export drive
Related Links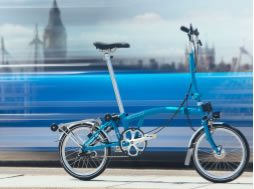 Participate
Comment on this story on the forum
Brompton Bicycle – the designer and manufacturer of the iconic folding bike - is set to open a new manufacturing and distribution hub.

The unit at SEGRO's Greenford Park will be transformed into a manufacturing and distribution hub where highly skilled craftspeople will continue to manufacture the bikes and accessories.

The lease for the 86,000 sq. ft. site is for 15 years and will enable the company to meet its expansion plans and to cater for international customer demand.
SEGRO describe the unit as being part of their Park Royal estate but this includes all their facilities along the A40 corridor.

Brompton Bicycle will fit out the unit with advanced technology - including rapid prototyping using 3D printers through to precision CAM machinery.

Will Butler-Adams OBE, Chief Executive Officer, Brompton Bicycle Ltd, said: "After a lengthy search, we are delighted to be moving into the new factory. We are committed to London; Brompton was born from a need of city living, our staff are Londoners and the city continues to inform how the Brompton develops."

Alan Holland, Business Unit Director for Greater London, SEGRO, said: "Park Royal is already home to large-scale manufacturers forming part of the rich mix of customers who are using SEGRO units to design, develop and distribute some of the UK's most innovative products."

Since the first Brompton was designed in 1975, the unique folding bike has steadily grown in popularity and now sells in 44 countries around the world and will hit circa 50,000 bike sales this year.

August 22, 2015