Toorpaki Saiedi warned she may face jail
Related Links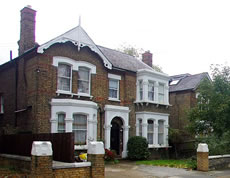 The house off Horn Lane where Mrs. Saiedi lives with her 7 children.
Sign up for email newsletters from ActonW3.com, EalingToday.co.uk,
Participate
Comment on this story on the forum
A former asylum seeker living in a £1.2 million house paid for by the taxpayer was warned she faced jail after pleading guilty to benefit fraud.

Toorpakai Saiedi, 37, a mother of seven originally from Afghanistan, falsely claimed almost £30,000 in housing benefit, council tax credit and working tax credit.

She hid a Barclays bank account that generated income over a period of three years from Ealing council and the Department of Work and Pensions.

Speaking through a Farsi interpreter at Isleworth crown court, Saiedi admitted three counts of falsely claiming benefits.

She had claimed asylum after coming to Britain in 2001 with her children, a year after husband Haji Rahmat Shah Saiedi, 47, arrived in London.

They have lived in properties paid for by councils: a three-bedroom terrace house in Enfield, a five-bedroom semi in Ealing, and now a seven-bedroom property in Acton, also paid for by Ealing council. It has two reception rooms, one with a large plasma TV, two kitchens, a dining room, a breakfast room, three shower rooms and a 100ft garden.

Saiedi's son Jawad has said: "When the council chose to put us here we did not say no. If someone gave you a lottery jackpot, would you leave it? When I heard how much the council was paying, I thought they were mad."

The Acton house is owned by Ajit Panesar, who bought it in 2008 for £1.2 million. He said of the rent he receives: "I have done nothing wrong. I can't help it if the law says I should get paid the amount of money."

Angie Bray, Conservative MP for Ealing Central and Acton, said: "This case was a double whammy for the taxpayer. The benefits system has to be reformed so money is not used to put people in houses hard-working taxpayers could never hope to afford."

Henrietta Paget, prosecuting, told the court that from September 2006 to September 2009 Saiedi had logged a total of £29,888 in falsely claimed benefits.

Three Ealing Council housing officers who managed the family's claim were sacked after news of the massive claim caused huge embarrassment to bosses at Ealing council.
Today, Cllr Yvonne Johnson, Cabinet Member for Finance and Performance said: "This case was brought to court following an investigation led by Ealing Council.We always take action when we discover benefit fraud and as this is such a serious case we hope that this will be reflected in the court's sentencing."

Saiedi was remanded on bail to be sentenced next month.



16 March 2011