Surprise the love of your life with special treats from Churchfield Road
'He who love touches walks not in darkness'. So said Plato centuries ago. And if you are struggling with the perfect Valentine's Day surprise for your love, look no further than The Village Trading Store on Churchfield Road in Acton.
With Valentines day on Monday 14th February, The Village Trading Store will be open on Sunday 13th February from 11am till 3pm for last minute gifts for the one you love.
How about 'Simply Roses' - a lovely range of scented sachets or heart-shaped rose soap? You'll also find a delectable rose syrup, from a little town in France called Lourmarin, which is fabulous in champange, or drizzled over your favourite cakes and baking.
Does that special man in your life deserve some love and attention? The Village Trading Store has a new range of scented candles for men, and ladies will enjoy a vast range of Kew candles, perfect for long luxurious baths.
We also have glass heart hanging vases,which come in three sizes,for one flower.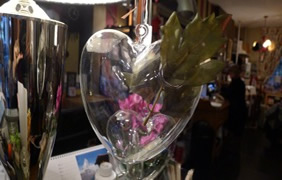 And to keep your lover (and you!) warm, there are heart-printed hot water bottles, and a new type of draft excluder which actually stays on the door (handmade in Acton!).
All this plus cards, sweets, gifts and vintage clothing and much more.
Come and have a look.
Happy Valentine's Day
with love,
The Village Trading Store
Advertisement
February 2, 2011