So you have decided to look to buy your first property. What an exciting step you have just taken. The question now is: what the next steps should be in achieving your dream of home ownership. If you require a mortgage, there are a number of steps to consider that will increase your chances of success.
THESE STEPS ARE AS FOLLOWS:

Get an agreement in principle from a lender. This will confirm that your credit history is satisfactory and will also outline how much you can borrow. It is vital to ensure that your credit history is good and there are a number of steps you can take to have a good credit rating. These include making sure you are on the electoral roll, keeping your credit commitments up to date, actually having a credit commitment, closing unused credit accounts and even, where possible, having a landline as well as a mobile. Once you have obtained an agreement in principle you can then and a property and make an offer. Inform the sellers and the estate agent that you have an agreement in principle as this will increase your chances of an offer being accepted. Discuss the circumstances surrounding the sale with the estate agent to help negotiate an offer that will be acceptable to both the seller and yourself. Once your offer is accepted, you will need to appoint a legal representative to handle the legal work (this is called conveyancing). The legal representative will check for any planning or local issues that may affect the property as well as acting for your lender in agreeing the mortgage deed.
In choosing a legal representative, it is advisable to choose one that works on a fixed fee and no move, no fee basis. In order to obtain a mortgage you will need to complete a mortgage application and pay a valuation fee as the lender will wish to ascertain that it is worth the price agreed. There are basically three different types of inspection available. A basic valuation, a homebuyers report and a building survey. The differences between them being the amount of detail the inspection will go into. The more detailed the inspection and report, the more costly it is but this can be money well spent rather than potentially finding out issues and problems later. Once your legal representative is satisfied with the contract, searches and answers to enquiries and you are in receipt of a satisfactory offer of mortgage then you can sign the contract and exchange contracts. At this stage you will need to normally pay a 10% deposit and a date is set for completion. Exchanging contracts means both yourself and the seller are legally committed to complete the sale of the property.
Completion is when the property is yours and you will obtain the keys. On completion you will need to pay the outstanding purchase monies that you owe. Your legal representative will arrange for the funds from your lender to be available and you will need to provide any balance in the deposit monies. At this point you will also need to pay costs such as stamp duty and fees to your legal representative.
Congratulations! You now own your first home! There are a number of steps involved in making a purchase. We aim to make each step as smooth as possible.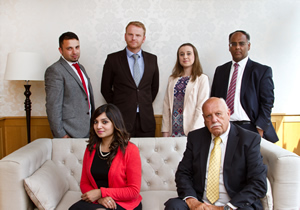 Advertisement