ISIS Waterside Regeneration has been granted planning permission by Hounslow Borough Council for the delivery of a second phase at its popular mixed use scheme Brentford Lock West in Brentford.
The second phase of homes will include 141 new residential properties, including four bedroom townhouses and a collection of one, two and three bedroom apartments, as well as commercial space on the ground floor along Commerce Road.
Mæ Architects have been appointed to design the second phase and have been working closely with the developer and the local community to ensure that the delivery of this second phase offers a different architectural perspective, while complementing the initial phase of homes, currently under construction
Katie Sully, Development Director at ISIS Waterside Regeneration, said: "With homes on the initial phase at Brentford Lock West selling well, securing planning for the second phase marked a great end to a very successful year in 2014. The scheme has already had a positive impact on this little corner of west London, with increased use of the local waterways and initiatives such as Cultivate London (an innovative urban farm, which has been on site since works first commenced), really adding to the sense of community that is building here. It was always the intention to have a number of architects design the different phases to ensure architectural diversity and it's important to us that we continue to liaise closely with the local community as the development evolves. We are very excited about the fresh perspective Mæ Architects will bring."
Alex Ely, partner at Mæ Architects, added: "We've designed a scheme that is architecturally distinct whilst being of its place. Our design takes its cues from the waterways and its wharf architecture as well as drawing on characteristics of the nearby conservation area. We are excited about now taking it forward to construction and adding our bit to this great development."
Situated along the banks of the Grand Union Canal, Brentford Lock West forms part of a five year project, which is expected to breathe new life into Brentford, through the delivery of 520 new homes. In addition to providing much needed new housing, the scheme will also deliver new community spaces and commercial buildings, helping to create new jobs for the area. The homes, which are being delivered by leading waterside developer ISIS Waterside Regeneration, offer buyers a unique opportunity to secure a new, highly specified home, while benefiting from a host of community features and green initiatives – from roof top allotments to the delivery of a new watersports hub to be operated by Brentford Football Club Community Sports Trust.
The Sales and Marketing Suite is open daily, 10am - 5pm. For more information or to book an appointment call the Brentford Lock West sales team at Stubbings Property Marketing on 020 8569 7449, email brentfordlockwest@stubbingsltd.co.uk or visit www.brentfordlockwest.co. uk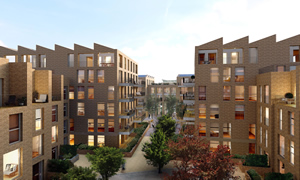 Advertisement