With 75% of sickness absence from work relating to either stress or muscular-skeletal disorders, leading to a loss of 27 million work days (at a cost of £13.4 billion in 2011/12), employers cannot ignore the need for preventative strategies to address the health of their workers. Body Mechanics and Holland Wellbeing are pleased to announce that they are working in partnership to offer practical solutions for organisations, to improve the overall health and wellbeing of employees.
It has been found that FTSE 100 companies that report on employee health and wellbeing outperform those that do not. Smaller companies have traditionally been slower to engage in such strategies but are now realising that this is a sound investment. Not only can the programmes themselves contribute towards a higher standard of wellbeing among workers, but offering these can help engender loyalty and a sense of community within the organisation itself. With two thirds of adults now classified as overweight or obese and 80% of adults failing to meet government exercise guidelines, employee health cannot fail to be high on the agenda of any organisation. We are working longer hours in a highly competitive workplace and are more stressed than ever, with many workers juggling multiple commitments outside of the workplace.
Both Holland Wellbeing and Body Mechanics have proven track records in delivering successful health and wellbeing solutions to a number of high profile corporate clients and offer a range of solutions.
Holland Wellbeing provides:
The set up and management of corporate wellbeing programmes. With 16 years of change management experience, the delivery is in safe hands.
Lunchtime wellbeing seminars and webinars. These are typically one hour long and cover such topics as: Wellbeing and Busy Lives; Working while Caring for Children or the Elderly; Weight Management; Surviving the Corporate Jungle.
On and off site exercise programmes (all equipment is provided by Holland Wellbeing).
One to one consultations, with holistic wellbeing plans tailored to the individual. These can take place on site or remotely.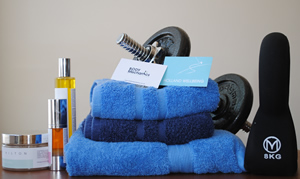 Body Mechanics provides high quality, on-site massages, postural assessments & injury rehabilitation treatments in the convenience of your office. We provide all the necessary equipment, meaning you just have to provide the treatment space.
Work related pain & discomfort caused by postural imbalance, stress, muscle tension or over/under use of muscles and joints is something from which we all suffer from time to time, however it's not always something we deal with effectively. As an employer, adopting a forward thinking 'prevention is better than cure' approach, can help both your employees as individuals and your business overall.
We realise just how important it is to your business to have a happy, healthy and productive workforce, to ensure that they're active participants in its success. By investing in your employees' health & well-being you can directly:
increase productivity
improve employee engagement & job satisfaction
heighten employee retention
manage stress & stress- related illnesses
as well as reduce sickness absence rates
which from a business perspective means that you can make significant savings on the costs associated with sickness absence or employee underperformance, such as:
hiring temps
cross-training employees
a loss in productivity
managerial staff spending time away from higher value work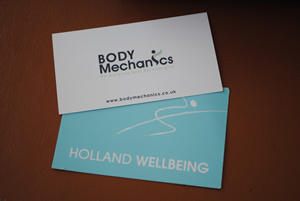 All Body Mechanics and Holland Wellbeing services are structured according to your business requirements. We can work in conjunction with your Human Resources, Occupational Health and/or Health and Safety departments to benchmark the positive outcome of your investment and to ensure all legal obligations and best practice guidelines are met.
Business is built on two key elements - profit & relationships - and employees are integral to both. Your employees, or your human capital, are the most important and lucrative asset to your business. By investing in their health and wellbeing both your employees and your business will be at their best . Good relationships will be maintained and substantial profits will be achieved. Body Mechanics and Holland Wellbeing, as your on-site practitioners, can work alongside you, delivering health and wellbeing services as a way to prevent, rehabilitate and cure conditions before they become issues.

Both Nikki Roy of Body Mechanics and Lynsey Metcalfe of Holland Wellbeing held senior positions in large corporates before establishing their own businesses and have first-hand experience of how important employer investment is to employee welfare and business success,
Body Mechanics was set up by Nikki Roy, after she sustained a back injury and experienced how important the employer can be in recovery and subsequent return to work. Nikki re-trained as a Massage Therapist at St Mary's University College in Twickenham, renowned for its School of Sport Health and Applied Science. Nikki offers a high level of physical care through a range of massages, such as Sports, Deep Tissue, Remedial, Swedish and Pregnancy massage, in addition to myofascial release CORE I Bodywork as taught by US practitioner Noah Karrasch, postural assessments and injury taping, to help those with similar musculoskeletal disorders and to promote best practice in corporate care.
Body Mechanics therapists are ITEC qualified, First Aid trained, members of both the CThA and SMA or the equivalent and fully insured.
Contact on M: 07772 845213 E: massage@bodymechanics.co.uk W: www.bodymechanics.co.uk
Following a career as a management consultant, Lynsey Metcalfe established Holland Wellbeing with the aim of helping corporate and individual clients become fitter, healthier and better able to embrace the demands of modern life. She is a qualified Personal Trainer and Wellbeing Practitioner, with particular expertise in working with clients with health conditions, muscular-skeletal disorders, ante/post natal, and weight management concerns. She is an experienced public speaker to Board and CEO level, with a successful portfolio of seminars and webinars, specifically aimed at corporate audiences. All Holland Wellbeing practitioners are REPs registered and insured and hold advanced qualifications in the relevant specialities.
Contact on M: 07957 417718 E: lynsey@hollandwellbeing.com W: www.hollandwellbeing.com
Advertisement