With a special offer for our readers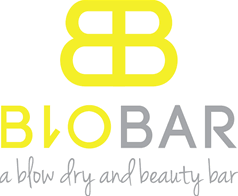 BLO BAR
81 Chiswick High Road
London
W4 2EF
020 8995 3455
hello@blobar.com

Get a 15% discount by quoting "w415" when booking.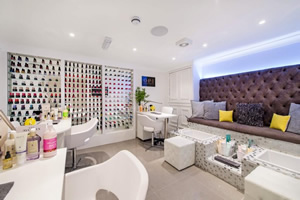 When visiting Blo Bar on Chiswick High Road, leave all your pre-conceived notions of traditional hair salons behind; we don't just deliver treatments, we deliver a luxury experience guaranteed to relax and invigorate you.

We know how important it is to have a place to sit back and escape the pressures of the world and Blo bar is just the place. Laid out as if you are in an actual bar, Blo bar is a world of opulent interior teamed with calming tones and colours and serves as a welcoming haven from the jarring rat race outside. We want to immerse all our customers in luxury making you look and feel like a superstar for an evening with friends or just a little bit human after the school run!

For ladies who have the pleasure of juggling all the joys of motherhood, pampering may be a concept you have completely lost touch with. At Blo bar we believe that it is essential for every woman to take time out and our onsite crèche means you can bring your children to the salon without worrying about keeping them entertained.

Spending time at Blo bar is a family affair and everyone can benefit from the perks of coming to see us. We offer a range a treatments for children from haircuts to mini pedicures, and also our high popular Princess Pamper Parties. The perfect birthday celebration idea. Where we make each of your little girl's guests feel like a princess. The package includes a glass of pink lemonade on arrival, mini manicure and mini pedicure, a hairstyle of their choice and access to the salon exclusivity for two hours and a choice of music/film to be played. We can even also organise make up, face-painting, a DJ and party bags. Held on Sundays we aim to make it a day your little Princess's will never forget and we have a great time too!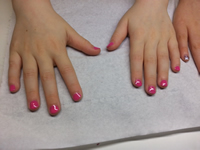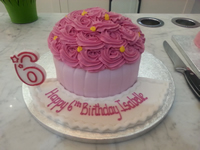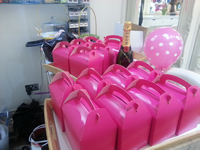 We are a new age Blow Bar and each of our Bow Stations has a Samsung tablet for you to use. Whether you want to do some shopping, check your emails or just surf the net for the latest viral video, you can do it all from the comfort of your chair. Ladies who bring their little munchkins can check right in with the crèche and see their angels playing away, we don't want you to have a care in the world.

So as you let go and enjoy your chosen treatment, you can go all out in the indulgence stakes and opt for one of our complimentary cupcakes with a nice cup of tea or coffee.

If you are feeling peckish or the little ones are crying for a snack, we have menus from the greatest restaurants in the area, all sourced by ourselves. We will be happy to nip out and collect you a bite to eat, bringing it right to you in your chair. The only muscle you will have to move is your mouth to give us your order!

The personal touch in our service adds to Blo bar's unique charm. We hope we will get to know each other so paying us a visit will feel a bit more little more home. Whether you visit Blo bar for a blow dry, complete restyle or some of those essential treatments like waxing, tanning or manicures, we guarantee first class service in a lavish environment that will give you the boost you need to get on with everyday life.
Quite simply: sit back, relax and indulge….
Lylabee "Cannot fault Blo Bar. I've had my hair, nails and eyebrows done here and they are amazing! I would highly recommend."

YazzyYow2 "I can't be without my weekly Blow Dry, It lasts all week and my hair is usually SO hard to do. The stylists are amazing."

Ranij "Had a fantastic pedicure by the lovely Rima. My feet look fab and feel so soft. Thank you :) Great foot massage too. I felt very relaxed and looked after. Refreshed with my water (in a mason jar with lemon - nice touch!) Impressed by the choice of colours for polish - plenty to choose from. Will go back and would recommend to friends."

Gowest "Fantastic great place for hair or nails"

Leahkathrynhall "Baby friendly atmosphere is invaluable. I'll keep going to Blo bar for pedis without a doubt. Need to try a gel manicure next."

SPD "I had a Balayage with Anabelle, She was amazing and it looks great! The best colour I've ever had!"

Fiona230 "The salon decor is light and bright which makes it inviting. All the staff are friendly and polite which makes the treatments relaxing and enjoyable"

ZaneKoi "My friend couldn't stop complimenting me on my manicure. Harriet was excellent as usual. No wonder I keep coming back!"

MaxCamp "Great nail varnish colours and child-friendly atmosphere makes Blo Bar a great option for mums. Super-friendly staff are always warm and welcoming."

Jacinta-K "Rima, as she always does, did a great job with my wax. Pretty much no pain compared to a normal wax."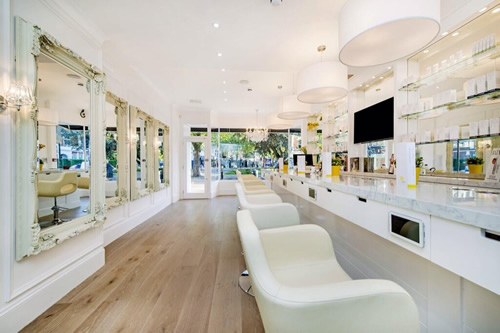 Advertisement
September 10, 2015