Wheelie bins and fortnightly collections expected to start next spring
Related Links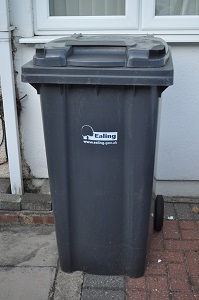 Southall has had wheelie bins since 2008
Participate
Comment on this story on the forum
Despite much opposition and several petitions it's almost certain that all parts of the borough will get wheelie bins by next spring.
In a pre-emptive strike - prior to next week's cabinet meeting - the council held a media briefing to outline the plans and attempt to soften what for many residents will be a highly unpopular decision.
There is a European-wide target to ensure half of household waste is recycled by 2020 and Ealing say moving to alternate weekly collections is in line with neighbouring boroughs. They claim it will help reach the authority's target of recycling 50% of household waste by 2018.
Rubbish sent to landfill is currently costing around £10 million and council bosses say this new method will save around £1.7m a year, but Conservative group leader, Councillor Gregory Stafford disagrees about why this is being introduced:
''This isn't about saving money. This is about Labour trying to salvage something from a badly mismanaged contract to reduce costs to the contractor so that they dont walk away from the contract.
''The residents of Ealing will see no benefit. Their Council Tax will remain high, they will still be charged for garden waste and they will get a worse service. One of the most basic requirements of a Council is to collect the rubbish - by going to fortnightly collections they have even failed in this.''
Most households that currently have the doorstep refuse and recycling service will be given two 240 litre wheelie bins – one for refuse which is currently disposed of in black sacks, and one for mixed recycling.

Residents will place all recycling in one wheelie bin which will be collected fortnightly. The other wheelie bin for refuse would be collected on the week in-between recycling collections. Food waste would continue to be collected from the food caddies every week.
The council will assess properties which it feels are not suitable for a wheelie bin and provide the same service offered to homes on red routes.
Councillor Bassam Mahfouz, cabinet member for transport, environment and leisure, said:

"We've taken huge strides forward to improve recycling, but it's clear that we must make some big changes now if we want to further increase recycling rates.

"Around 70% of local authorities, including other London boroughs, have already switched to this sort of system and have seen their recycling rates rocket. I will be encouraging my cabinet colleagues to agree to the changes proposed, as it will be good for the environment, make our borough cleaner and save millions of pounds."

However the decision has angered opposition policians who say residents should have been consulted:

Liberal Democrat Councillor, Gary Malcolm, said:
"Ealing Council has a three year track record of large volumes of missed collections, dirty streets and not managing its contractors effectively. The Liberal Democrats believe that residents should be consulted about these wheelie bin proposals as they are not appropriate for many residents."
The changes will be discussed by the council's cabinet on Tuesday 16 June and, if agreed, are expected to be introduced in late spring 2016.

11th June 2015