London's first trampoline park allows us a sneak preview
Related Links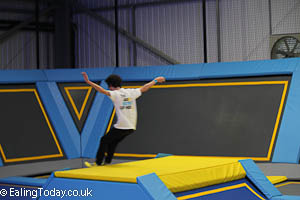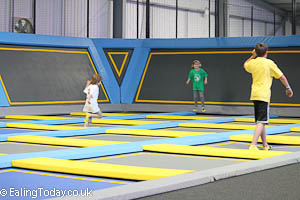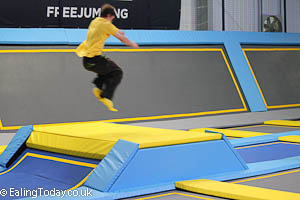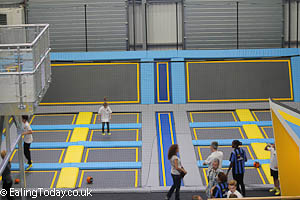 Acton Freejumping
Vision Industrial Park
Kendal Avenue
London
W3 0AF
T: 0203 143 3943
E: info@oxygenfreejumping.co.uk
Participate
Comment on this story on the forum
First impressions of this bouncing warehouse of fun are of a huge playroom where children (and adults) can run themselves ragged.
In these times when it's hard to get youngsters off their many devices, and obesity is a major issue, anything which gets them moving without realising they are actually exercising - has got to be a good thing.
We got a sneak preview last night and my two sons (7 and 13) both loved it. I even made an effort, had a bit of a bounce, and, after my initial fear of injuring myself eventually found my rhythm and enjoyed it too.
The trampolines are on several levels so even when it's packed over the forthcoming holidays there should still be enough room. They have slots of an hour each, which, although doesn't sound long, is quite enough - am told an hour's bouncing burns 1000 calories!
There is a massive freejumping area as well as Dodgeball courts, a giant air bag, "walk the wall trampolines", basketball hoops and tumble tracks.
Sebastien Foucan (pictured below) famous for being part of the iconic opening scene in James Bond's Casino Royale, has moved his freerunning academy here and a dedicated obstacle course will be used by Foucan to offer freerunning facilities.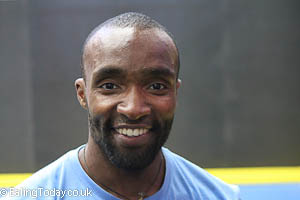 Regular sessions offered will include Family Bounce, Teen Takeovers, Little 0's for toddlers, fitness sessions on the park and in a dedicated rebounding studio, a professional trampolining academy for aspiring gymnasts and holiday camps.
The cafe is well situated, with an excellent viewing area for those not wanting to partake.
The young staff are friendly and well trained, and most importantly all geared up to deal with any injuries - which in a place like this seem an almost inevitability.
In an attempt to minimise the number of accidents, all participants have to watch a short video before they embark on the experience which sets out a few trampoline rules.
There are enough staff to keep an eye on the proceedings and curtail any overexcited youngsters from danger, but in signing a disclaimer before the session begins you have to take responsibility for you and your children's actions.
Oxygen Freejumping will prove a very popular addition to the area, me and my boys will definitely be bouncing back soon.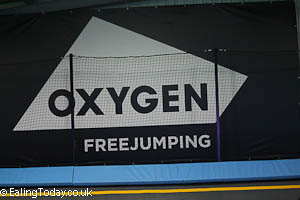 Annemarie Flanagan
16th July 2015