Related links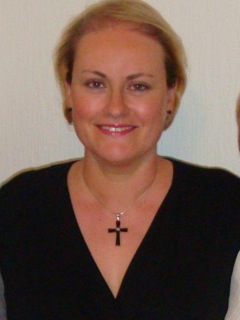 Vote for Acton's Kirsty Ferrett here
An Acton woman has beaten hundreds of entries to be shortlisted in a children's story writing competition.
Kirstie Ferrett, 42, who works as a part-time administration officer at The Mill Hill Surgery on Avenue Road is one of 10 regional finalists from across the country hoping to win a prize of £1,000 in the search for a budding children's author.
Her story 'Munch and her Wished for Friend' can be seen and voted for at www.munchtime.co.uk.
The tale features Munch the Cow as she wishes for a new special friend and was highlighted as exceptionally creative by a panel of independent judges. It was inspired by the relationship between Kirstie's two daughters Elice, 10 and Jayme, aged six. Elice is severely learning disabled.
Kirstie is chair of the local charity "Parents of Ealing Self Help Training Scheme" otherwise known as P.E.S.T.S, which is a play and support group that has been helping parents of children with additional needs for the last 30 years.
Kirstie said: "I am absolutely delighted my story has reached the regional finals and hope it can in some small way spread the word that children with special needs may have differences but that these should be accepted and celebrated alongside children without any."
The competition, by Munch Bunch yoghurts, is in its fourth year and aims to highlight and celebrate the importance of parents bonding with their toddlers and young children over story time and give burgeoning writers the opportunity to shine. Previous Munch Time Story winners have subsequently secured publishing deals and established successful careers in writing. The winner won't be the only one to win a cash prize, their local library will also receive a donation.
In a recent survey of parents in London with children under five, Munch Bunch found that 1 in 5 have never visited their local library.
Child psychologist Dr Richard Woolfson, who has been involved with the 'Munch Time' story writing competition for the last three years, says:
"This year's entries have been of the highest standard. Creating stories is a wonderfully creative and rewarding activity for parents to enjoy with their little ones. Story time with very young children is not just beneficial for their intellectual development, it is a magical opportunity to bond, which even the busiest of parents should make time for."
Voting will conclude at midnight on Sunday 22nd July with the winning story to be unveiled early August.
Fans of Munch Time can also be part of the story writing competition count down excitement on Facebook: http://www.facebook.com/munchtimestory
3rd July 2012