Death announced of Millennium Mayoress, Joan Portwood
Related Links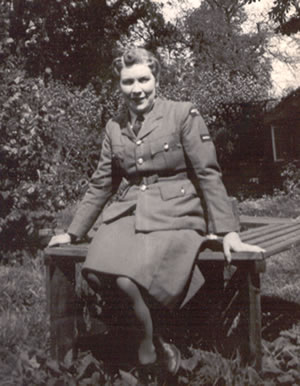 Joan Portwood in her WAAF uniform during World War II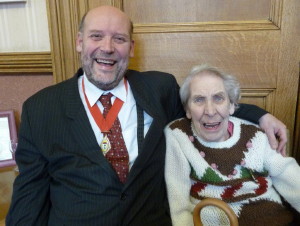 Philip Portwood and mum Joan ( photo: Stan James)
Participate
Comment on this story on the forum
The death has been announced of Mrs Joan Portwood, after a short illness, at the age of 90.
Joan was probably best known as the Millennium Mayoress of LB Ealing from 1999 to 2000, but had also spent a lifetime of community service to the children and people of East Acton and the wider communities of our Borough and beyond.
She served as Millennium Mayoress when her son former Councillor Philip Portwood was the Millennium Mayor, and undertook at the age of 77 what was thought to be a record of over 300 engagements. Joan's other child Dr Lynn Portwood is a Doctor of Chemistry, and she and her husband Dave are the parents of Joan's beloved grand-daughters Philippa (18) and Jessica (15). Joan's husband Bill Portwood died in 2010, after a loving marriage and partnership in community service that lasted for over 50 years.
Joan's work with children included :
- founding and running for over a quarter of a century the Old Oak Pre-School Playgroup, as one of the pioneers of the Pre-School Playgroups Association (now the Pre-School Learning Alliance)
- being the Lieutenant of the local Girls Brigade for many decades
- chairing and leading the John Perryn Primary School Parent Teachers Association in the 1960s
- Teaching, and campaigning for, parenthood classes for school children from the 1970s
Amongst her other community activities in East Acton and beyond were :
- Being Church Steward for many years at Old Oak Methodist Church in The Fairway in East Acton, where she worshipped for all of her married life
- Campaigning for cycling and for pedestrian safety on the Western Avenue
- Serving as an active member of the Mayoress's Committee
- Acting as a carer for isolated elderly people in East Acton
Joan was born as Joan Gwladys Kenny in North Kensington in 1922, but her family moved to East Acton in the 1930s when her soldier father was posted to the then Army Camp on Wormwood Scrubs. She herself served in the Second World War in the Womens' Auxiliary Air Force – being stationed at RAF Stanmore and RAF Bentley Priory, where she served as part of Air Chief Marshall Dowding's team at Fighter Command that planned and co-ordinated the Battle of Britain.
Joan died in her sleep at the Chestnut Lodge Care Home in Woodfield Road, Ealing, where she had lived since the death of Bill in February 2010. She had been diagnosed with leukaemia just a few weeks before her death. Her illness came on so quickly that it has not proved possible to plan funeral arrangements in advance. These will be announced as soon as they are decided.
Philip said: "We are very sad to have lost our wonderful Mum, but she crammed more good works and good spirit into her 90 years than anyone could ever hope. Mum was sustained to the end by her Christian faith and a relentlessly positive attitude that always saw the good in people and their communities. She was a great Mayoress, a brilliant Mum and Grandmum, and a glorious, life-affirming person.
As a family, I, Lynn, Dave, Philippa and Jessica would like to express our enormous thanks and appreciation to Campion Mead and his very caring staff at Chestnut Lodge and to Dr Arjun Dhillon and his colleagues at the Argyle Surgery. They ensured Mum's last years were in a friendly, pain-free and caring environment, that brought the best out of her, and was wholly in the same spirit that Mum herself brought to her caring and community life."
The present Mayor of LB Ealing Cllr Mohammed Aslam and last year's Mayor Cllr John Gallagher paid tribute to Joan on behalf of the Council and community at a full meeting of the Council on 26th February.

27th February 2013