and you're invited on Sat 7th September Acton High Street
Related Links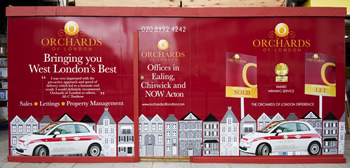 Participate
Comment on this story on the forum
Orchards of London is due to launch their third office in Acton on 7 September at 12 noon to which you are invited.
Paul Connolly, Managing Director says: "To be opening our third office in Acton is a tremendous occasion as this is where it all started for Joseph and I a few years ago.
Our Ealing Common office at the moment deals with an extensive portfolio for Ealing and Acton properties thus the logical place to open our next office would be Acton. The lead up to the opening is very exciting and we look forward bringing our award winning company to Acton and showing new clients ''The Orchards of London Difference".
Joseph Murphy, Business Development Director says: "On a collective basis we are all thrilled by the opening of our third office. While some of the team members are getting ready to move across to our new office we have also started our local recruitment drive to find West London's best talent. We are also excited taking on more schools and other fabulous local causes!"
The Orchards of London Acton office opening will take place on 7 September from12 noon until 5pm at 82 Acton High Street, W3 6QX.
The team would like to invite allActon residents to the opening and enjoy a Wine tasting experience like no other.
For more information or to RSVP please e-mail
marketing@orchardsoflondon.com or give the team a call on 020 3141 7979.

6th September 2013