Foul smell prompts local council to issue warning on court action
Southfield Councillor Gary Malcolm has welcomed news that Hammersmith Council is threatening to take Thames Water to court because of the noise and smell caused by the pumping station in East Acton. The action is backed by Ealing Council and Thames Water has been given until this weekend (September 6th) to deal with the problem.
Local Liberal Democrats have accused Thames Water of trying to delay things too long. "Thames Water should get on and fix the problem they have caused. Until they cover the tanks I cannot see the problem being solved," commented Cllr Malcolm.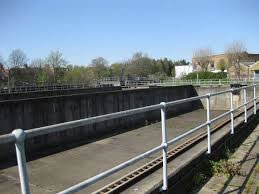 The pumping station
Local people say between 400 to 500 people are affected and more than 50 complaints have been received by the council from people living near the Acton Pumping Station in Warple Way, East Acton. The tank holds storm water after heavy rain once sewers have reached maximum capacity. The smell of sewage building up at the bottom of the tanks and the noise of pumps sending water back into the sewers after heavy rain has been leaving residents unable to open their windows for several months.

Councillor Wesley Harcourt, Cabinet Member for Environment, Transport and Residents' Services, says: "The noise and smell from Acton Pumping Station is stopping residents enjoying their homes and that is simply unacceptable.

"Thames Water has had plenty of warning about this problem and residents have had enough. The company has until September 6 to take effective action or face the consequences."

Mark Danks of Warple Way works from home and lives opposite the tanks. He estimates about 1,000 local people are affected. He says: "Our building is very energy efficient; it feels like summer ten months a year. It's horrible living in a place where you can't open your windows or doors, it's like being in a sweat box. If I had known I never would have moved here.

"I can't have people over, it's embarrassing. If you open your windows or doors, you feel nauseous. Many neighbours with weaker stomachs than me can't eat in their own homes."

After earlier intervention from H&F Council, which is leading the action backed by Ealing Council, Thames Water installed an automated cleaning system and a bigger, more powerful pump. But these still failed to drain the tanks properly, leaving a foul-smelling sludge at the bottom of the tanks.

H&F Council has now served the company with a legal notice giving Thames Water until September 6 to solve the problem or potentially face court action.

Anyone concerned about the smell or noise coming from Acton Pumping Station should contact the H&F Noise and Nuisance Service on 020 8753 1081 during office hours and 020 8748 8588 outside office hours.
Last summer locals were told that it was a short term issue affecting tanks near Canham Road due to problems with the emptying of sewage. Locals claimed they had been told it would improve when the tanks were cleaned but the foul smell has remained.
Liberal Democrat Councillor Andrew Steed, organised a meeting with Thames Water last year , along with the local residents association
A letter from the headteacher at Southfield Primary School, to Thames Water last year said that teachers had to keep children in from the playground when the odour was bad. The school, which has over 500 children from Chiswick, Acton, and Shepherds Bush, said it was having an impact on the childrens' learning.
A petition was also set up on Ealing Council's website which gathered hundreds of signatures.
Thames Water has identified Acton Storm Tanks as part of its proposed Thames Tideway Tunnel or 'Super Sewer' which has been recently given the go-ahead.
September 2, 2015