Related links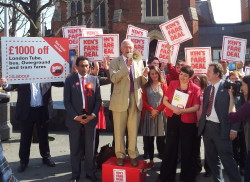 Ken Livingstone has been in Acton talking transport and promising to cut fares.

Labour's contender for London Mayor was accompanied by Dr Onkar Sahota, who hopes to represent Ealing and Hillingdon at the London Assembly following the elections on May 3rd .
Mr Livingstone stood on a box and used a microphone to address visitors to Acton Market on Thursday (29th March).
His transport manifesto includes pledges to:
• Cut the fares by 7% which will save Londoners on average £1,000 over four years
• Bring suburban rail services into London Overground
• Guarantee to protect the Freedom Pass from age 60
• Deliver better bus services in the suburbs
• Get a grip of the Tube delays which affect millions of Londoners every week
• Introduce a smart parking system to reduce congestion and make car parking easier
• Freeze the Congestion Charge for 4 years.
• Focus on safer cycling everywhere with new green routes in outer London
• Build the case for new transport links including Crossrail 2, new DLR and Croydon Tram extensions.
Mr Livingstone said,
"I make no apology for the fact that the focus of my transport policy is to make it cheaper for Londoners to get around. This election is a referendum on who will make Londoners 'better off'. Under my Fare Deal, the average fare payer will save £1,000 over the next four years - many will save much more.''
Last Wednesday (28th) Boris Johnson was in Greenford.
Other mayoral candidates include: independent Siobhan Benita, Carlos Cortiglia for the British National Party, the Greens' Jenny Jones, Liberal Democrat Brian Paddick and Lawrence James Webb for Fresh Choice for London.
For more information and a full list of London Assembly member candidates visit www.londonelects.org.uk
April 3rd 2012l