Missing golden Labrador puppy bolted up Emlyn Road
Jasper, a six month old Labrador puppy ran off on Weds Oct 15 near Acton - he's still missing and his owner is offering a reward for his return.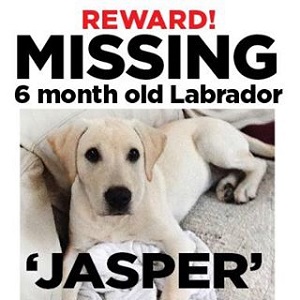 Sarah Cruz says:
"He ran off from the dog walker whilst in Stamford Brook Common. He was chased up Emyln Road towards Acton at 1.10pm before the last sighting of him by police on the eastbound carriageway of the A40. They lost him as he ran into Wales Park Road, Park Royal at 3:20pm. We did a thorough search of the Acton and nearby industrial estates in Park Royal but he could be anywhere from Ealing, Acton, Harlesdon to White City or beyond.
''He is microchipped and was wearing a collar and ID tag. He has been running too fast for police or anyone to catch him. We fear he is hiding somewhere away from people but will need to come out and eat eventually, and hopefully be spotted. He is friendly but is obviously lost and scared. There is a reward for his return.
"Any help would be much appreciated"
Further information can be found here www.facebook.com/missingJasperUK
Contact Sarah on 07771768411.
21st October 2014