Police believe former occupants may have been target
Related Links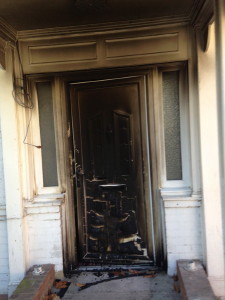 Burnt out door following arson attack
Participate
Comment on this story on the forum
An Acton family could have been killed in an arson attack believed to have been aimed at the previous owners of their house.
The couple moved into Mill Hill Park, Acton, with two sons in April.
Around 1am on Saturday morning (31st August) they had been sleeping in their bedroom on the third floor when they heard one of their sons shouting.
He'd heard a noise outside, looked out of his bedroom window and saw the front door alight and two men in hoods running off towards Avenue Crescent.
The father said, ''We all ran downstairs and were immediately aware of an overwhelming smell of petrol. There were flames coming from the bottom of the door and the smoke alarm had been set off.
''I ran to get water and my son dialled the fire brigade. Fortunately we managed to put out the blaze by the time they arrived. If it hadn't been for my other son's quick response and alerting us all I dread to think what might have happened.''
London Ambulance Service attended and treated the victims for smoke inhalation at the scene.
It is believed the attack was a case of mistaken identity and was aimed at the previous owners who sources say were known to the police. Neighbours have said it may be part of a "gangland revenge" campaign. A member of the family who were formerly resident at the property is currently in jail for drugs offences, but police have told the current occupants the attack could have been aimed at another relative.
The father in the family that was attacked says they've all been left terrified and his wife now wanted to move.
''We thought we had found our perfect home, it's in a leafy conservation area with wonderful neighbours. Although we knew there were some problems with the previous residents we weren't told the real history.''
''Our sons are now terrified as there is no certainty that it won't happen again."
The victims's want CCTV and a higher and visible police presence in the area and are keen to get the message out that the former occupants moved in December 2012.
Ray Batchelor, chair of Milll Hill Park Residents' Association (MHPRA) said:'' We were shocked by the events which happened at this home and support any efforts to make it known that they, and not the previous inhabitants now live there. It remains to be seen if the police had intelligence before the event which they ought have acted on; and just how quickly they put CCTV surveillance in place.''
Police say they believe the suspects targeted the wrong address and urge anyone with any information to call 101 or call Crimestoppers anonymously on 0800 555 111.
4th September 2013