Action scenes from 24 take place on Warple Way
Related Links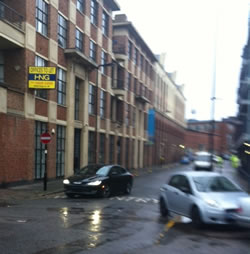 (A sinister-looking black car races through the streets of Acton)
Participate
Comment on this story on the forum
Hollywood came to Acton this Sunday (6th April) as a crew from FOX TV filmed scenes for the new series of 24.
Warple Way was closed off for the day to allow a high speed chase to be filmed. According to residents the sequence involved a black car being chased by two marked Range Rover police cars.
The large crew on location did not include any of the major actors from the long-running series, including Kiefer Sutherland, who plays CTU agent Jack Bauer.
The new series will be partly based in the United Kingdom with Stephen Fry reportedly due to play the Prime Minister.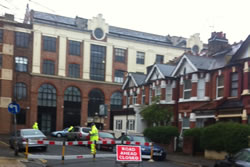 (Warple Way was closed during the day's filming)
It will have 12 episodes instead of the standard 24 that made up previous seasons. Kiefer has revealed the action takes place some four years after Day 8 (or season eight), with Jack a fugitive who ends up in London.
The 47 year old has won an Emmy, a Golden Globe and two Screen Actors Guild Awards for his role in Fox's hit TV drama.
The new series of '24' is listed to begin on May 5th.
April 8, 2014