VETERINARY ACUPUNCTURE
GENEVIEVE TOUZEL
BVSC MRCVS CertVetAc (IVAS)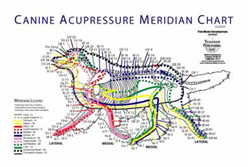 Introduction
Acupuncture is one of the oldest treatment methods in the world.
It originated in China about 4000 years ago and involves placing very fine needles into acupuncture points to relieve pain and illness in the body.
How does acupuncture work?
Traditional Chinese Medicine (TCM) works on balancing energy. Energy (or Qi) is either not balanced and becomes blocked (and therefore in excess) or is insufficient within the body.
In terms of Western Medicine, acupuncture works by
Stimulating the nerves which inhibit the transmission of pain impulses
Releasing endorphins. This increases the feeling of wellbeing and helps to alleviate pain.
What types of diseases can acupuncture be used in?
Acupuncture can be effective in treating a wide variety of diseases and a wide variety of other issues. I am always happy to try acupuncture on any condition but have found that excellent results can be achieved for
Arthritis
Spinal pain
Abdominal complaints
Urinary problems
Post surgical rehabilitation
Wounds and scar tissue
Stress-related illness
Hip and elbow dysplasia
Cystitis
Analgesia
Epilepsy
Vomiting and Diarrhoea
Do the needles hurt?
The needles that are used in acupuncture are extremely fine and have a rounded tip that parts the muscle fibres rather than cutting through them so they are much less painful than needles used for normal injections. There is a slight sting, but most animals tolerate them really well and many animals visibly relax once all the needles are in.
Why is it worth trying acupuncture?
Acupuncture is a non-medication form of treatment. Therefore, it does not have the side-effects that can be seen with other forms of medication. Acupuncture can also offer fantastic results in overall health and disease prevention.
What is the procedure for having acupuncture?
Most animals do not need sedation. We book a 30 minute appointment and allow the patient to get comfortable. Some patients prefer the table; others prefer the floor. Most animals are a bit restless the first session but by the second or third session are happy lie down and some even fall asleep. Follow up sessions are usually 20 minutes. Generally, you stay with your pet during the appointment time.
How many sessions are needed?
It depends on the condition and the animal's response but as a rough guide, a weekly session for 4 – 6 weeks then 'top-ups' as necessary (every 3 – 6 months). I have found that many animals seem to improve so well that the top ups are not required as regularly.
Is acupuncture covered by insurance?
Many insurance policies will cover alternative therapies if recommended or performed by a veterinary surgeon. Please check with your insurance company.
What do I do now?
If you have any questions or would like to book your pet in for acupuncture, please call the surgery and speak to Genevieve Touzel. Genevieve has been board certified by The International Veterinary Acupuncture Society (IVAS) and is a member of the Association of British Veterinary Acupuncturists (ABVA) and The International Veterinary Acupuncture Society (IVAS).
Client testimonials
A definite change in his behaviour to such a degree that no-one could doubt the acupuncture has made a positive difference.
I'm so happy this has helped with his energy / mobility. Thank you!
Emma and Thomas the cat
Our dog responded on day 3 after each treatment and after the 4th treatment was the best we've ever seen him. 1 year on, he appears pain free and looking far more comfortable than he used to. I have no hesitation in recommending Genevieve.
Ben and Mickey the ex-racing Greyhound