Residents fight for proper standards of noise insulation
Acton resident Chris Blackman and his partner bought a newly built shared ownership flat in partnership with Acton Housing Association in June of 2005.
The flat, which is part of a brownfield redevelopment situated on Acton's busy High Street, was intended as a first step onto the property ladder for the young professional couple, but has given them nothing but sleepless nights since the day the moved in.
Chris told ActonW3.com "Immediately that we moved in we found the noise levels in the flat unbearable - the noise was from the exceptionally noisy street and principally coming through the windows. After discussing this with other residents we found they had the same problem and some of them had moved in during February 2005 and had been putting it up with it since then!" He went on to say "We were all assured individually by Acton Housing Association that nobody else had this trouble."
After months of Acton Housing not taking the problem seriously, Blackman contacted Ealing Council only to discover that planning permission for the properties had been refused on the grounds that "details of the acoustic fenestration and associated ventilation measures fail to meet the Council's standards and UDP policy requirements" essentially meaning that that the windows on the plans would not provide sufficient noise reduction. The planning permission was refused in May 2004 and stated unequivocally that "no occupancy of the properties would be allowed before new planning permission was sought and granted in writing."
Despite the fact that no plans were ever resubmitted to Ealing's planning department, contractors, Leadbitter Construction, went ahead with the build. In February 2005, Acton Housing Association began to market the shared ownership properties, a scheme intended for key workers, at a market rate of around £200,000. Chris Blackman, a university researcher and his partner who works in the film business bought their top floor, one bedroom flat in April 2005 and moved in a few weeks later. The couple, who have lived in Acton for over five years, knew that the location of their flat wasn't ideal but believed that because it was a new build, the standard of the property would more than make up for this.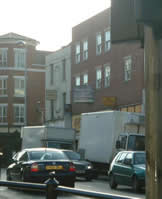 However, they discovered that in reality the poor quality of the windows meant that noise lasting almost a full 24 hours turned their home into a nightmare. The flats, which face onto an alleyway, suffer virtually constant noise pollution from 5.00am deliveries to the local shop to the 24 hour mini cab firm that operates from the basement of the building for which a licence was granted by Ealing Council before any of the residents had moved into the building to object.
After numerous emails and letters failed to provoke Acton Housing into action, Blackman contacted their Chief Executive, Peter McCormack, who ordered acoustic tests to be carried out. The resulting report, written in November 2005 and which residents managed to obtain a copy of last week showed that the noise levels in the flats were significantly higher than the decibels recommended by the council with one resident suffering noise levels in their bedroom 13dB higher than those permitted by Ealing Council.
Chris Blackman, who has the support of the other residents in Benjamin House, said "We have been assured new plans have been submitted to Ealing Council three times but when we have checked nothing was submitted twice. Meanwhile, collectively, we are left living in flats that have no planning permission, considered uninhabitable due to the noise and therefore worthless because we can't sell them."
"Acton Housing obviously don't see this as a priority, they haven't even offered to re-house us until the problem is sorted. They have a great way with dealing with complaints - they ignore them utterly. Collectively we have sent huge volumes of email, letters and phone calls very few of which ever get answered. And some people have not had a decent nights sleep in a year! One resident has had to sleep in the bathroom on occasions, which has no windows."
Residents are understandably angry and are considering suing Acton Housing. However, the reason these people live in Shared Ownership properties is because they cannot afford to buy properties outright, which also means they don't have money for legal help. "We get treated like second class citizens and have to cope with conditions that my partner describes as a 'nightmare' and which reduce her to tears frequently. And all this time Acton Housing Association is holding meetings to discuss how they can improve their policy. One way would be to respond to serious problems like this!"
Acton Housing Association has told residents that they are meeting with the Leadbitter Construction to try and iron out the problems. The resident's request to attend this meeting was denied.
Benjamin House is just one of a number of new shared ownership projects currently in Acton. Shared Ownership properties in Bromyard Avenue and Horn Lane have recently been completed and are about to go on the market.

February 15, 2006