Acton curry house hits all the right spots for Stuart Webb
Talk about an authentic sub continental dining experience! The night we visited the Taj in Churchfield Road, Acton, was several degrees hotter than Goa (where, incidentally, a couple of the Taj's finest dishes hail from).
The faint-hearted amongst us had questioned the wisdom of heading out for a curry during a heatwave. On the contrary: like a refreshing cup of tea on a hot day, a subtly spiced Indian feast will warm your palate but help you keep your cool. To be fair, this advice doesn't strictly apply to one of our usual top choices on the Taj's menu. If you're man (or woman) enough to try the Gurkha Revenge while the thermometer's tipping 90, don't blame us!
In general, however, the Taj is about flavours rather than fire, aromatic herbs rather than heat, and that makes it a perfect choice for a party of mixed tastes. Its award-winning chef, Saiful Bari (he raked in all the top industry prizes during his time at Edinburgh's Britannia Spice and Aberdeen's Cinnamon) takes a wonderfully innovative and inquisitive approach to his art, incorporating flavours and dishes from south Asia and beyond. The result is a fresh, distinctive menu and a wealth of choice.
We'd enjoyed the cooking at Taj's previous incarnation, the smaller Namaste, and the restaurant's renaissance on this bigger site, facing the leafy St Mary's rest garden across the road, will undoubtedly win it even more local fans. The look is cool contemporary, the feel warmly welcoming. Takeaways are always popular but the service here is so superb we'd urge you to go and just enjoy being looked after like kings.
Recommended to start: a shared mixed platter, including vegetable and red chilli pakuras and gram flour pastry samosas, chicken, lamb tikka. Packed with flavour but, be warned, very filling. A gorgeous dark sauce we couldn't identify was drizzled on top; upon enquiry we learned its recipe is a fiercely guarded secret of the chef so all I can tell you is, it's delicious – try it. Ditto the chef's own take on sauces to accompany papadoms; excellent.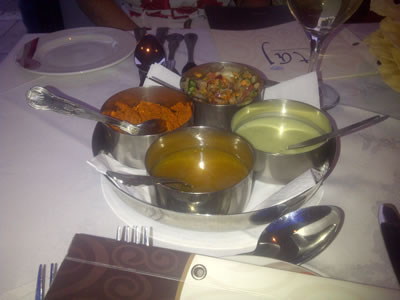 Winning top marks from our 'I like curries but not too hot' member of the party was the Honey Chicken, not a dish we recalled on other menus; sweet, succulent and fragranced with herbs. More to my taste was the punchier Goan Fish, white flakes of flesh in deceptively creamy coconut sauce but with a lovely kick, courtesy of coriander and green chillis. This combined perfectly with my favourite side of mushroom rice. We took our waiter's recommendation for the Lamb Tak Tak Bhoona and again it was the subtlety of the flavours that stood out. This is food that makes you pay attention to it; the meat obviously top quality, steeped in aromatic flavours of garlic, ginger and coriander.
Importantly in these austere days, the Taj also offers first class value for money. In particular, if you're a buffet fan, I'd recommend making a nice long, lazy Sunday visit. For just £7.95 each (£3.95 for children) you can enjoy as much as you like of a selection of Taj special dishes: quality and quantity combined! Check the restaurant's website for details of this and other special offers, including set menus and full price list.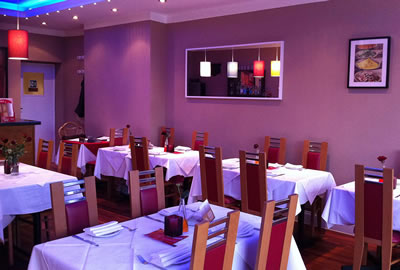 Talking of value added, the Taj's civilised BYO policy gave me a nice excuse (not that I need one) to zip into the nearby excellent wine and ale emporium Park + Bridge at 73 Churchfield Road and pick connoisseur Lucy's brains about the best specialist beers to drink with curry. Two in particular we loved: the malty, award-winning Scottish craft lager Schiehallion (named after one of the most popular Munros in Highland Perthshire) and the charmingly titled Curious Brew, a crisp, clean Kentish lager beer created by the same people who make Chapel Down wines, just £2.30 a bottle. Imagine my satisfaction when the one Scots member of our party had to admit she slightly preferred the English one…
August 16, 2013