Food worth getting off the train for
Down the bottom end of Churchfield Road next to Acton Central is The Station House pub, and what a truly beautiful old building (former ticket office) this is.

I have been inside for a drink before and always enjoyed the ambience downstairs but have never sampled the food - more fool me.
Upstairs has recently been renovated and transformed into a really classy dining area. Business partners Raffaele and Tracy have sympathetically restored the room and managed to turn it into a modern, stylish eating establishment but in doing so they have successfully retained the pub's unique oldy worldy atmosphere. If you're a train buff you can sit by the windows and watch them go by relaxing with your G+T in the comfortable chairs.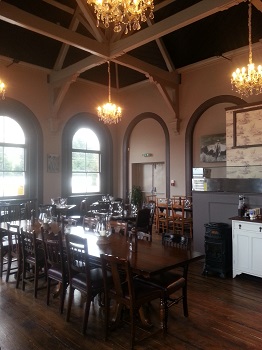 We went for lunch last week and I was pleasantly surprised when I saw the menu outside and realised this wasn't your usual run of the mill 'pub grub' type place.
Raffaele is from Puglia in the South of Italy (think back of foot/heel on map) and the food reflects this.

There is a rather splendid 'tapas' menu with a variety of offerings served in a terracotta bowl known in Italy as a terrine.
Cod and King Prawn Stew, Aubergine Parmigianna and Italian Meatballs are just a few of the many choices on offer.
A friend told me I had to try the Breaded Squid (with sun dried tomato relish ciabatta and rocket), and it was a very good recommendation. I don't normally go for squid, it can be - well - rubbery I always think. Not so this one, it was a total delight. Light, non chewy and very, very tasty, the bowl was quickly demolished.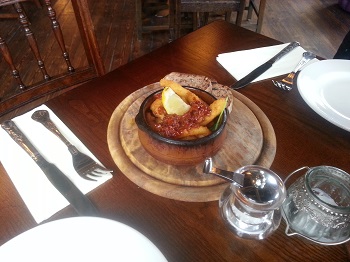 My colleague moved on to the Grilled Fillet Steak Al Pepe Verde (9oz) served with green peppercorn sauce, polenta chips & buttered spinach. Our conversation stalled as he immediately tucked in. It was, he said, cooked to perfection, a really good cut of meat which he evidently thorougly enjoyed. The polenta was an unusual addition replacing the more usual potato but worked well with the peppercorn sauce. A clean plate was testament to a very satisfying meal.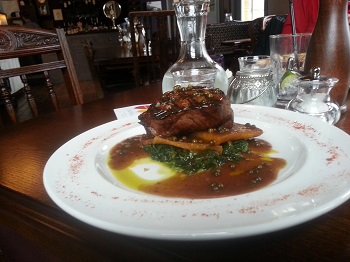 Having been wooed by the squid I considered sticking to the tapas menu and taste a few more of the Puglian delights, for they were indeed very tempting, but instead decided I would put The Station House to the test with my pizza challenge.
Now the thing is I'm not really a big pizza fan. I don't really get how people can rave on and on about various pizza establishments and this very simple flat bread with topping. Apologies to the many pizza aficionados out there, but pizza is - well just pizza isn't it? Granted it's easy to mess up and believe me I have had my fair share of tasteless ones in the past (perhaps that's why I'm a bit anti-pizza now?) Anyway, let's just say it takes a lot to impress me as far as pizza is concerned, but Raffaele and his magic dough succeeded.
I had the Campagnola which was one of the non-meat options (Tomato, Mozzarella, Black Olives, Roman Style Artichokes,Spinach, Cherry Tomatoes, Parmesan) it was gorgeous.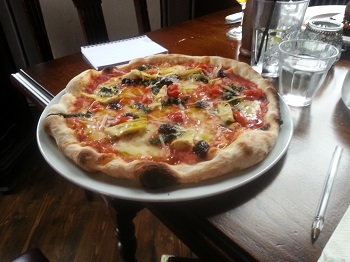 This wasn't just pizza, it was a work of art on a plate. Light as a feather, very flavoursome and extremely moreish.
Raffaele revealed his chef's secret, his dough is made with natural yeast and takes 48 hours to mature. He agreed that in many places pizzas can be a big disappointment which is why he wanted his to be special, he said: '' If you want to do it, do it properly or don't do it at all''.
The Station House certainly does it properly.
We had very little room left after our enjoyable mains but managed to share a Chocolate Pudding & Belgium Chocolate Sauce With Vanilla Ice-cream. One word will suffice - heavenly.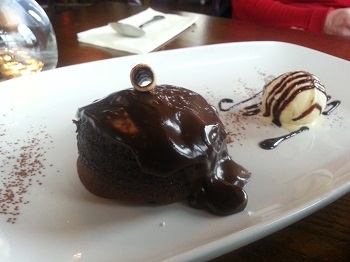 Overall I was very impressed. There is a big menu choice so if you did want the usual pub fare - burgers or sandwiches - you can still get them, but you can also be a bit more adventurous too. It's a lovely place to eat, far more classy than the usual pub and much more atmospheric.
If you've not paid a visit to The Station House for a while maybe it's high time you popped in, marvel at the upstairs and maybe even enjoy a perfect pizza.
Annemarie Flanagan
5th December 2013