Contemporary Thai Food and a special menu too
Related Links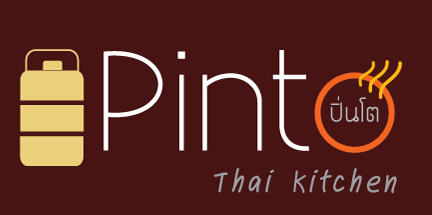 Pinto Thai Kitchen
46 High Street, Acton,
London W3 6LG

020 8993 0838

Lunch
Mon-Fri: 12.00pm - 3.00pm

Dinner
Mon-Thu: 6.00pm - 10.30pm
Fri-Sat: 6.00pm - 11.00pm
Sun & Bank Holidays: 6.00pm- 10.30pm


Participate
Sign up for our free weekly newsletter

Comment on this story on the
'Let us be your pinto' says the menu for Acton's Pinto Thai Kitchen. If you grew up in 1970s North America, that slogan could be seen as an ode to the Ford Pinto, one of the worst cars ever made according to Time Magazine, because it had a rather volatile nature. The car tended to erupt in flame in rear-end collisions.
Thankfully this Pinto leans more to another meaning to the word, which in Thai is a a set of containers to carry meals which are specially prepared and cooked from home. Pinto can also be used as a slang of a mother and wife who provides food for her beloved kids and husband.

Shirking off my pinto role, I took the husband and beloved kid down to the 'other' end of Acton High Street. I'd been to the restaurant in its previous incarnation of Thai restaurants and wasn't impressed. And I'm a bit of a Thailand junkie so getting the real thing at the street market in Chiang Mai can be hard to measure up to.
The atmosphere at Pinto Thai Kitchen is warm and inviting, in fact the management is not far off calling it a 'kitchen'. Bustling and contemporary, decorated in warm colours with simple wooden furnishings, it's like sitting in someone's comfy front room, with the enticing mixture of Thai food smells wafting out front.
I usually stick to Thai Green Curry as measure of Thai food - a staple on any Thai menu and probably one of the best-known to non-Thai palates. So I thought I'd better be a little more adventurous and see what the kitchen had to offer beyond the norm.
Starters, ranging from £1.50 for prawn crackers to £6.50 for Grilled Giant King Prawns. We ordered the 'Dress-Up Prawn - deep-fried prawns wrapped in rice paper and served with sweet chili sauce, the Barbeque Spare Ribs and the Chicken Satay sticks. I really wanted to try the Hoy Yan - grilled mussels with lemongrass and herbs but I'll save that for next time.
The prawns were fresh and crispy, with perhaps a bit too much 'dress' and not enough prawn. My son's chicken satay was a bit bland but with the chunky peanut sauce, he didn't seem to notice. The ribs could do with a little more kick to them but again, they were meaty and exactly as it said on the menu.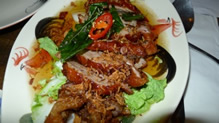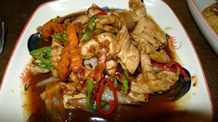 For our main course we ordered the Plum Duck, which was crispy duck topped with dried shallot and crispy basil leaves. I've never had duck in a Thai restaurant and I was pleasantly surprised. It's mildness could be a perfect introduction to Thai food for those not interested in something a little spicier. We also had the Chicken with Garlic and Black Pepper Sauce, which my husband thought was excellent. As someone who usually orders the same thing (this dish or a variation of), that's saying something!
I can't get away at any Thai restaurant without ordering my favourite dish - 'Larb' salad. A specialty in the northeast of the country, this is not for the faint-hearted. Minced chicken or pork (I had the chicken) tossed with shallot, mint, kaffir lime leaves and a healthy dose of chili and lime, this wasn't as good as my Thai friend Wi makes in Chiang Mai, but it wasn't bad. I had enough left over of everything for lunch the next day and the Larb certainly woke me up.
The drinks menu at Pinto Thai is wonderful and good value. Recently granted a licence to serve alcohol, there is a good selection of global wines ranging from a Portenova Pinto Grigio at £13.95 to a New Zealand Wairau River Sauvignon Blanc at £18.95 in the whites, and a crisp Californian white zinfandel to a bottle of Sangiovese red at £12.95.
I also recommend the cocktail menu - everything from Mojitos to the tantalizing 'Pinto's Lover', which was a delicious concoction of lemongrass vodka, cointreau, mint, cranberry and pineapple juices.
At the end of the meal, I made an interesting discovery. At the table next to me was seated a Thai couple and I noticed they seemed to have food that didn't appear on the English menu. Our server explained to me that this was the Thai menu - the Sukiyaki Hot Pot, where you choose from an array of ingredients and everyone at the table eats from all the dishes and soups together. Had I known that it existed, (or if I'd read it in Thai on the menu) I would have ordered that for a more 'authentic' meal. No matter as we weren't too late to order from the Thai dessert menu - banana fritters with ice cream and a lovely steamed bread with sweet coconut cream. I'm hanging out for May when honey mangoes come into season and I shall be walking down to Pinto's just for the 'Sticky Rice and Mango' which is again served with sweet coconut cream.
Acton's Pinto Thai Kitchen may not be found in the back streets of Bangkok, but it can proudly stand as a very good London substitute for good, honest home-cooked Thai food.
Our meal for three with starters, mains, drinks and dessert came to £58. And I even had enough left over for lunch the next day.
Michelle Smith
20 April 2011