Curry lovers simply have to sample Namaste, Acton's newest Indian restaurant
Chicken tikka Massala officially ousted fish and chips as Britain's favourite dish some years ago and 'round here it's not difficult to find a neighbourhood Indian restaurant in which to enjoy one. The tough bit is differentiating between the run of the mill and the outstanding. In few cuisines are subtlety and expertise more noticeable or important than in the cooking of the sub-continent, so what a joy it is to find a local restaurant that gets it all absolutely right, without breaking the bank.
Namaste is minimalist in style but bursting with class. It lives up to its name with a warmth of welcome that's cheering on a chilly night and in just six months the High Street newcomer has already acquired a squadron of devoted regulars.
This gem of a place is the creation of Mesbah Uddin, whose pride at securing the services of one of Indian cuisine's leading exponents is evident – and justified. Chef Bijay Gurung has cooked his way with distinction round some of Nepal, India and London's most celebrated establishments, including the Bombay Bicycle Club and the Great Western Hotel in Paddington. Bijay is passionate about quality of ingredients and observing traditional cooking methods, while giving them a trend-setting twist. It's a flamboyant combination that produces cracking results, whether of the melt-in-the-mouth, slow-cooked variety or a sizzling, immediate stir-fry. An added treat is the addition of specialist and sometimes-unfamiliar Nepalese dishes. Be brave and experiment. We took Mesbah's advice on the best recipes to sample and were well rewarded for our adventurousness.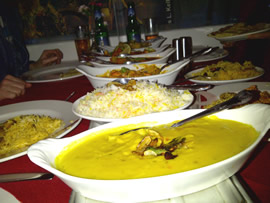 As Mesbah points out, since he came to London 25 years ago, there have been a lot of subtle changes in Indian cuisine. It's become a healthier option, with less oil and butter used and the disappearance of food colourings prevalent in the early days. Before, coriander paste might be used. Now, chefs blend fresh ingredients. At the same time, British diners' expectations and knowledge have grown; we've become more discerning, not to say picky!
Namaste exemplifies the fruits of this evolution, its chef displaying a lightness of touch that's apparent even in the rice, voted the fluffiest we'd sampled, the palpable freshness of ingredients and the clever flavour combinations. As Mesbah says: 'I'm proud of the difference; how many other people are actually inventing things in the curry industry here?'
It's hard to praise highlights of our feast when there honestly was not a mundane dish in it. For a different starter, try the Momo: a plump Nepalese dumpling packed with minced lamb and served with homemade chutney. Or why not nibble on a vegetarian side dish? You haven't tasted daal 'til you've tried Bijay's, made with two different types of lentil. Or the potato and cauliflower in exotic spices. Veggies will simply be in seventh heaven here.
I can honestly say I've rarely enjoyed an Indian dish more than the Chittagang Chingri Koudu: succulent whole giant king prawn cooked in spicy sweet sauce with sweet pumpkin and spring onion (£10.95). Charcoal-cooked butter chicken (£6.95) kept the sensitive-palated member of our party happy with its gentle flavours but two of us just had to try the wonderfully named Gurkha Revenge (£7.95). It claims to be 'one of the hottest dishes on the menu yet balanced with selected spices, garlic and lemon' and it was an education in clever cookery. Even for someone who can't cope with really hot food, it was a delight: none of the taste was lost, though the heat remained tingling pleasantly on the lips for a good while after. All the more reason to pop down a few more nicely malty Khukuri Nepalese beers (the house wine – Marcel Hubert Chardonnay or Merlot at £12.95 – is another option we can recommend).
Like anyone who loves what they do, Mesbah is infectious in his enthusiasm. Without doubt, we'll all take up his warm invitation to go back and range even more widely around the menu, straying off the familiar path to discover yet more delights of Bijay's artistry. And one of the best things of all about Namaste is that its prices mean you can go back regularly without blowing the budget. Check out the particularly good Christmas promo currently running and '£20 for two' special menus (there's also a very generous 15% off takeaways if you collect). One of my fellow diners summed it up neatly: 'Superb food at seriously competitive prices. What more could you want?'
Terrence L Taylorton
19 December 2011