Our reviewer finds Anokha as good as ever before
Related Links



Anokha Indian Restaurant
15 Churchfield Road
Acton
W3 6BD

020 8993 3463
020 8993 7152
info@anokhaindian.com

Eat in or takeaway

Open 7 Days including Bank Holidays
Sun-Thu: 5.00pm - 10:30pm
Fri & Sat: 5.00pm - 11:00pm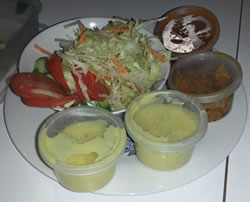 Participate
Sign up for our free weekly newsletter

Comment on this story on the
A small miracle occurred the other night, in what may seem the most unlikely of circumstances: enjoying an Indian takeaway dinner with friends. And the miracle was all down to one of Acton's most popular established eateries, Anokha in Churchfield Road.
If you don't know my mate Neil, admittedly you won't realise just what a miracle it is to get him to try any Indian dish that's not Chicken Korma: no variation has been seen on this order for decades, for fear of an unexpected Hot Curry Experience. But this is what, in one evening, Anokha's chef achieved, thanks to the restaurant's reputation for expertise in tailoring sauces to suit individual customer's tastes, cooking any dish you desire with whatever permutation you fancy. Reassured, even our most timid member of the dining party felt free to experiment and, thanks to Anokha's efficient delivery team, we were soon contemplating our piping hot feast.
Vegetarians will particularly approve of the starters and side dishes Anokha offers: we mixed and matched to test drive a few. Highlights were the Samosas that came with some corners neatly tipped in red, to indicate meat fillings, and the generous-sized Paneer Shashlik: cottage cheese with fresh herbs and onions, marinated in a special sauce, skewered and grilled in the tandoori.
With over 25 years in the business, owner Fatik Miah has an unrivalled understanding of the subtleties and regional differences of sub-continental cuisine and his House Specials list bears witness to it: not only all the favourites, but also a wealth of more unusual dishes. We threw in a couple of requests for sauce variations such as Chicken Tikka Karahi and Lamb Pasanda (Madras strength), plus a generous batch of veggie side dishes for the herbivore amongst us.
It was an ambitious blend and some unexpected dishes were standouts. House Special butter Chicken Makhani cooked in a cream and nut sauce with light spicing even got a thumbs up from our hotter-palated numbers, while Captain Korma considered switching allegiance forever. The Madras variation rendered the lamb a bit too punchy for some tastes, but the meat was gloriously tender and well accompanied by the mushroom rice. A surprise star was the humble Mutter Paneer, distinctively sweetly rich in its sauce. To make a simple side dish so memorable takes real cooking skill.
The word 'anokha' translates into English as 'unique, singular or marvellous'. In our view, an apt description of what this dedicated family business achieves with its flexible, modern take on the rich traditions of Indian and Bangladeshi cuisine. Equally good whether enjoyed at your place or theirs!
Douglas Hitchin
22nd September 2014