Perfect spicing makes his tastebuds sing
It's hard to believe that it's just two years since Anokha first opened its door to Acton curry lovers; judging by the large number of forum followers giving it the thumbs up, it's already a local institution!

Our recent visit demonstrated just why Fatik Miah and his family have made such a success of Anokha. Even midweek, booking was a bright idea, because by 8pm tables were in short supply. Admittedly, the classy, contemporary-styled dining area is compact (my wife counted 24 covers) but still, the restaurant's popularity is clear.

The welcome is warm and genuine, as is Fatik Miah's pride in Anokha's blend of Indian and Bangladeshi cuisine. It's all home cooked, with a unique twist –'Anokha' translates as 'unique' – and the menu is extensive, but with all our familiar curry favourites. However, to get a true taste of Anokha style, we adventurously invited Fatik Miah to select a 'connoisseur's choice' on our behalf.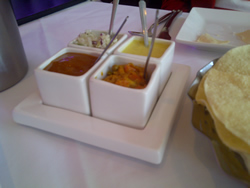 Cuisine from the subcontinent demands an absolute understanding of spices and how to blend them, and that's what makes the food here so special. Even the humble papadums and chutneys (50p per diner for a selection, including a gloriously fresh and zingy lime, mango, mint, tamarind) warrant a special mention, while Chicken Chaat Puri, beautifully tender chicken pieces in a loosely folded pancake covered in tangy chaat masala sauce, was plenty for a shared starter at just £3.95.

King Prawn Zafrani (can be made with lamb or chicken, upon request) is not one for the calorie-counters, being marinated and cooked in a very rich cream sauce, garnished with fresh capsicum, tomatoes and ginger and finished with yogurt, but it's glorious. Chicken Shashlik Bhuna, diced marinated chicken cooked with herbs, tomatoes, onions and green peppers in a special sauce and served on a sizzler at the restaurant, is deservedly one of the House Specials.

However, our star was the invigoratingly spicy Chicken on Sheghedi (a copper tabletop food warmer under which a tea light is set). Freshly cooked with garlic, ginger, capsicum, onions, tomatoes and special spices, garnished with fresh cream, this dish packs a wonderfully subtle punch on the spice levels. And my favourite accompaniment, done to perfection: rice stir-fried with steamed mushrooms, blended lightly with herbs and spices.

Anokha delivers on both quality and value. Mains (eat in prices) hover around £7-£10 and the restaurant's civilised BYO policy means you can enjoy your favourite tipple at shop prices without any corkage fee. Churchfield Road has an abundance of licensed off sales retailers and the friendly shopkeeper next door will even get your bottle extra cold in his ice cream fridge. However, for real wine lovers, I'd recommend a visit to the road's latest arrival Park and Bridge. For much less than you'd normally pay in a restaurant, you can toast your faultless Anokha feast with a very nice wine indeed.

Stuart Webb
5th June 2013