John Simons talks us through his route to Acton
Related Links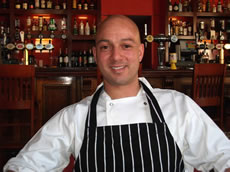 John Simons, new chef at the Rocket is getting into his stride


The Rocket
11-13 Churchfield Road
London
W3 6BD



To reserve a table or to contact us for any other reason, please call 020 8993 6123 or email rocket.acton@btconnect.com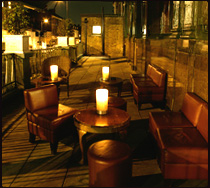 Participate
Sign up for our free weekly newsletter

Comment on this story on the
Earlier this year, there was a new face at the Rocket and now it's clear from the changing menu the new face is in charge in the kitchen.
Chef John Simons started life in Cornwall which could explain his easy way with fish. His route to the Rocket started out when he took a week's holiday windsurfing in the Canaries. He ended up staying a year working as a chef in an English restaurant there.
From the Canaries he worked as a private chef on luxury yachts, cooking for wealthy yacht-owning magnates. At one event during a break in his days as a sea-faring chef he cooked for Paris Hilton, Eva Longoria and Goldie Hawn when they attended a charity event at the Mood Beach Club in Portals Nous in Majorca.
After that, he worked as a chef in Claridges, the Langham and freelanced for a private catering company who organised a number of 'posh do's'.
We asked him whether he wants to change anything at the Rocket. "I'd like to make it more seasonal and want to use British produce wherever possible.
"I would say my cooking style is modern European. I'm really keen on fish - my favourite at the moment is lemon sole - and I'm also trying to add some more vegetarian options onto the menu. I like to keep changing it so people don't see the same things on there all the time, although there are favourites which we will keep as they are popular.
John uses bread from Laveli. He has started making his own pasta recently.
He says he enjoys working with the others at the Rocket and considers himself 'part of a team', though he also says: "I get to say what we're doing and I want to raise the bar for meals at the Rocket."
We asked him what his signature dish is. He told us: "I like a lot of things but so long as it's fresh and cooked well and simply using good ingredients I'm happy."
He then invited us into the kitchen to watch him in action. He quickly produced a delicious dish of chicken livers on toast, cooked with balsamic vinegar and beef stock which he presented to us and to one of the dining room staff who was keen to join in with the impromptu meal.
It was delicious and we will look forward to more from John over the coming months.
March 26, 2010