Our reviewer tests the new regime at the Station House
Related Links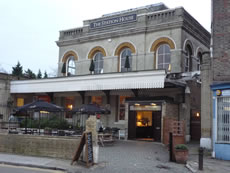 The Station House
6 Churchfield Road
W3 6EG

020 8992 7110
Take Part in our Amazing Acton Giveaway - Click Here to Take Part

Participate
Sign up for our free weekly newsletter

Comment on this story on the
Last Friday, after a very successful trip to the cinema in Richmond to see the very Acton-based film An Education, (much of it was filmed in which is now the Japanese School) we arrived back at Acton Central Station in the rain at about 8.30 feeling ravenous. The trains had been on time, the film was delightful and we wanted to continue our evening back on home territory.
And arriving back at Acton Central Station you're almost in the Station House, so hungry, weary travellers or revellers barely need to walk, just point themselves in the right direction.
We climbed the stairs, which, along with the rest of the pub, have been given a make-over (supplied by the Paint shop a few doors along, apparently) which gives the place a very cosy, relaxed and welcoming feel. On previous visits, although we always enjoyed the food, the upstairs room felt cavernous with too much space - and as there were seldom many diners up there it could seem a little bit bleak.
Now, there are leather sofas about which somehow muffles and softens the barn-like effect of the incredibly high ceiling. We were delighted to see several familiar faces there and, once the doors were closed, the room started to warm up. Upstairs at the Station House is now called the Rosso Lounge which makes you want to loll about on those leather sofas with a glass of something red.
You may think I'm potty, but you feel you are somewhere different sitting up there. There's a wonderful melted cheesy smell coming from the pizza oven which made me think I was in some Swiss mountain restaurant. Outside, we could see the level crossing barriers going up and down - which is an unusual view for London. There's something romantic about trains and barriers - or maybe it's because I've spent too much time watching the Railway Children.
Speaking of children, this view would go a long way to keeping them entertained - especially if they are Thomas the Tank fans. That's enough literary references for one restaurant review.
We started with Aubergine Parmigiana which is made with mozzarella and tomato and all hung together in a creamy bechamel sauce. This starter is delicious, the smokiness and softness of the aubergine works really well with its cheesy, creamy sauce - it's probably enough for two, but we had trouble sharing it even though my other half had ordered bacon and mozzarella potato gatoux which was a little too stodgy for my taste. That could be because we also shared Ciccio home-made Italian bread which, if you order the larger sized portion is truly fantastic freshly-baked pizza dough. The smaller portion is not so successful texture-wise but is baked with rosemary.
My pizza was a vegetariana and I polished it all off. It was very cheesy on a thin crust with lots of different vegetables (tomatoes, courgette, peppers, aubergine) with a little chilli oil. My other half had a burger (Home-made 8oz Angus Beef Burger with leaf, red onion & tomato) which was fine, but I think the pizzas are the thing - though having talked to Raffaele Losito the chef, I am really looking forward to trying the gnocchi next time. He makes them himself. All of this was washed down by two huge Peronis and the bill came to £36.75 excluding service.
Raffaele and his business partner Tracey Allum have very recently taken over at the Station House - they worked together at Bridge House on the canal at Maida Vale.

We look forward to lots more pizza and sofa lounging in the weeks to come.
November 27, 2009