Our regular feature on the people who live and work in W3
Iftekar 'Ify' Rahman is a true local having attended both Derwentwater Primary School and Acton High School and has lived in W3 for over 18 years. Ify has now scored a big hit with the community having recently opened Anokha, on Churchfield Road. His family own more than 5 restaurants across UK.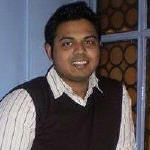 Where do you live in Acton and how long have you lived here?
I live in Acton Central. I have been living in acton for over 18 years
What is a typical day for you?
9:00am Have breakfast with my family and head to the park for an hour or so for pre-work relaxation
11.00am – I look after all the marketing aspect of the Anokha, so I would chase up with all the suppliers and distributors for all marketing tools such as business cards, leaflet, flyer desiging, newspaper and local press to make sure we are upto date with local media and marketing strategy. I also go the restaurant and help my father who is the operational manager and my brothers with getting things in place before we open the restaurant
12.00pm - I Return home and spend some time with my family and help my mother with preparing lunch for the family – as I love cooking myself
3:00pm - I Call the restaurant from home and check on reservations. If the guest tally has increased overnight, contact wait staff teams to see if they have all necessary items required before restaurant opens at 5pm and add more teams to the day's schedule if needed.
4:00pm – I get ready for work; as Anokha restaurant is a small modern and very cosy restaurant we at the restaurant wear smart cloths: the work attire is a full sleeve shirt with tie, black trousers and black shoes.
4:30 p.m. – My father Fatik Miah heads to the restaurant and prep for the night's business. My father will normally have 20-30min meeting with the executive chef about the dishes for the day and he would make sure all stocks are in place in the kitchen. Most of the dishes are my father's recipe, he also opens the bar so the bartender can get into coolers and begin cutting fruit and put things in place. I will normally Monitor the phone for reservations and make sure to check voicemails. It's imperative to return phone calls and messages to clients and guests.
5.00pm – The restaurant is open and we begin our business. I make most of the desserts, so I make sure all the dessert items are in place. We have 'Dessert of the day' on our menu. I make desserts from fresh fruits; I use a variety of desserts with flavored sweet yogurts and fruits to make the ending as exciting as possible for our guests, chocolate flakes, caramel, lemon toppings.
Recommended dessert: 'Choco Cherry'
7.30pm – 9.30pm – Is normally our peak hours
10:30 p.m. - I will make sure the bartender has taken care of all duties and ensure that the bar and restaurant are secured for the next day, following my checks, my eldest brother Khaysar joins me and my father and starts handling paperwork, which might include the preparation of contracts, suppliers bills, menus, he makes sure all health and safety and security checks are covered before he closes the restaurant.

What do you like about Acton?
I like the local facilities we have in Acton, the libraries, local communities, churches, mosque, health centers, supermarket, fantastic transport link on the buses and underground – most things are available in Acton. Acton really shows that London is a very multicultural city especially with a lot of ethnic minority across the Ealing borough
Is there anything you'd change about Acton?
To reinforce a better strategy for ongoing graffiti on the walls or doors, shop front shutters. I think there is too much waste bins lying everywhere, hence we have fox's coming out in the latter evening, I don't know maybe we can have something in place so that the fox's don't make mess on the streets
Why did you open your restaurant here in Acton?
Because I lived in Acton for a very long time. I believe this is a way to give something back to the neighborhood to the local community in Acton. I also get to meet a lot my old friends from Derwentwater Primary School and Acton High School. This venture is a great way of meeting those old buddies again and also getting to know the local neighbors in the area, moreover get them to trying the real Indian authentic food. – I love my hometown; it's the best in borough - Acton

29th June 2011