Loads of talent at pub's music night on September 17th
Related Links
To read more about the King's Arms, click here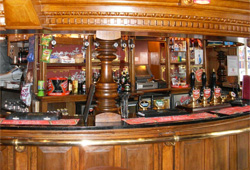 The Kings Arms
The Vale, W3 7JT

Bookings and information: 07725875161/07838197971

Pop down for a friendly pint and more to the King's Arms where you will find a friendly atmosphere, the biggest pub garden in Acton and a fantastic range of live music.


Participate
Sign up for our free weekly newsletter

Comment on this story on the
Come join us at the King's Arms on 17th September as we present a night of the best music in West London. Split in to 2 parts we have 5 acts and best of all its free entry!
Join us in the King's Arms, as the season of music officially begins.
This is going to be a fantastic night in two parts.

Firstly we'll be starting with a showcase of the best new and upcoming artists on the scene to get you in the mood for our second part, the bands!
This week the first act will be Adam Gafsen who will be followed by Ro Roalet leading us in to a duo Dennis + Georgiee.
There will be a short break before the bands to give everyone a chance to get a drink and relax before we are proud to present Vacation 4 Life and Obscene Locals.


Ro Roalet is a singer songwriter born and raised in London. Growing up writing poetry in his youth this has followed through in to his music giving him a simple flowing elegance to his craft. We are proud to be able to share his thoughts and experiences expressed through his music. For more information please go to www.myspace.com/roroalet
Dennis and Georgiee are a duo and their star is in the ascendant. Georgiee is an experienced vocalist who has played many venues throughout the UK and recently been featured on BBC radio. Dennis is a pianist and keyboard player with 30 years of experience in the business. The pair may well soon have a royal seal of approval with an exclusive gig for Prince Charles at his garden party so come and see them whilst you can.
Vacation 4 Life are the last survivors of a clinical trial gone wrong. Whilst in quarantine they were given music instruments to pass the time and quell the voices inside creating this fusion of improvisation was born out of the ashes. Stylish and unpredictable in its nature they really must be seen to be believed, as seen above a sense of humour is recommended for this most unconventional of bands.
Obscene Locals are a young up and coming band who have taken a short sabbatical to work on new music and recharge their passion for the music. With a fistful of new songs and a hunger to please come and see these guys bring the passion back to live music.
September 16, 2010