The Goldsmiths Arms believed to be serving last ever pint in September
The Goldsmiths Arms in East Acton looks set to close in the near future with regulars saying they have been told that it will shut its doors for the last time on 24 September.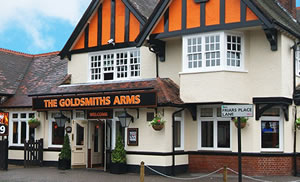 The pub has been at the site at 130 East Acton Lane since 1826 and was a popular traditional style drinking establishment with a large beer garden. The building has a local listing and already there is a move to have it designated as an Asset of Community Value which would give it an extra level of protection under planning law.
The owner is Greene King who operate it under the Flaming Grill brand. It has been suggested that the site has been sold for development.
We contacted Flaming Grill who currently manage The Goldsmith Arms for confirmation about their plans for the pub but are yet to receive a response.

August 31, 2017