'We Are W3' features works from 17 volunteer artists
The W3 Gallery celebrated the opening of their new exhibition "We are W3" on Thursday evening. Seventeen artists, who are also volunteers at the gallery, are showcasing up to three pieces of their work, from photography, painting, multimedia, to drawing, and graphic art.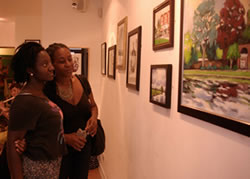 Local art lovers, artists and their friends and family took the opportunity to view and discuss the works on display, and enjoy the live music provided by violinist Asuka Tsujimoto & flautist Kana Takahashi (pictured below, all photos courtesy of Rachel Pepper).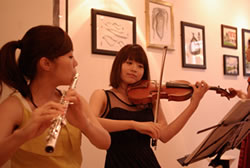 Peter Filbey curated the exhibition, and creates oil paintings of many recognisable local scenes. On show are his paintings of Haven Green of yesteryear and Gunnersbury Park in late summer, and a brooding representation of the River Stour in Suffolk. Alongside is the work of Chizuru Eagling, with her delicate paintings using traditional Japanese line drawing techniques, including the intriguingly entitled "Energy of Radish".
I was instantly drawn to the boldness and dynamism of Bala Parmar's abstract paintings. She is a self-taught artist who creates work by channelling her uplifting, positive spirit into her work. This is perfectly demonstrated by "Flowing Colours", "Ski slope" and an untitled work with their inspiring energy and bright colours.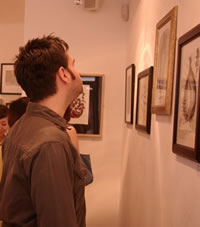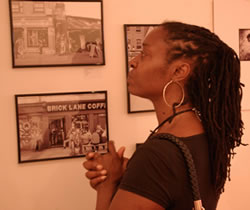 Alongside these aforementioned artists are Gilulia Baldorilli's thoughtful photographs of Brick Lane, Konstantinos Vasileiou's series of disquieting mixed media portraits, cheeky and amusing paintings from the "Rear End Collection" by Elise Colley, and the work of many of other volunteers that deserves to be seen.
The exhibition is open until 17th August 2014, at W3 Gallery, 185 High Street, W3 9DL. The gallery is open on Tuesdays-Saturdays from 11am - 7pm and Sundays from 2-5pm.
In creating such a rich and diverse body of work, I believe that the exhibition has something for everyone; this is truly inspiring art on your doorstep so please come and visit the gallery!
Catherine Phillips,
Volunteer at W3 Gallery
For more information, visit the W3 Gallery's website www.w3gallery.org.uk, or find them on Twitter (@w3gallery) and Facebook (Facebook.com/w3gallery)
August 11, 2014