Thames Water will answer questions on odour from the facility
Local people are invited to attend a public meeting to discuss the Acton Pumping Station.
The meeting will be held on Wednesday October 1st, from 1900-2000 in the Scout Hut, Rugby Road.
Thames Water claim to be working hard to solve the problem of a higher level of smell coming from the facility.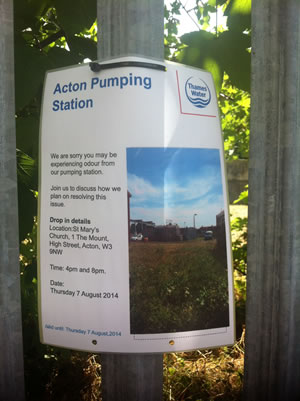 They have cleaned out the wet wall. They have apologised for the need to do some night time work during the operation. They say they are experiencing technical problems with a piece of equipment on site and it is affecting the cleaning of the tanks. As the storm tanks are not emptying as quickly as they should, sewage is staying in the tanks for longer than they would like, creating more of a smell at the site.
Thames Water representatives will be present to answer questions.


September 26, 2014