Funky sounds that defy boundaries
Participate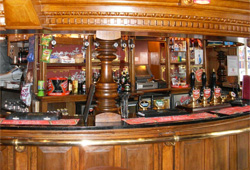 The King's Arms, The Vale, W3 7JT
This Friday night, The Kings Arms on The Vale is proud to present an amazing night of entertainment with Last of the Blue Flamingos.
With a solid rooting in the land of funk, the Last of the Blue Flamingos musical world is ecclectic and defies boundaries. Covering funk, soul and covers whilst dipping into swing, ska, jazz, klezmer, rock and disco - this is a seriously adaptable, seriously unique and seriously cool band!For dancing, listening, watching and partying, this is the ultimate in fantastically flexible funkyness.Band members and instruments are:
Dan Aukett - Vocals
Steve Burnett - MD, Alto Sax/Clarinet
Dan Berry - Baritone Sax
Miguel Gorodi - Trumpet
Phil Short - Guitar
Barry Medlock - Guitar
Rich Coughlan - Bass
Greg Pringle - Drums
Don't miss a fantastic night!
www.myspace.com/lastoftheblueflamingos
8th December 2010