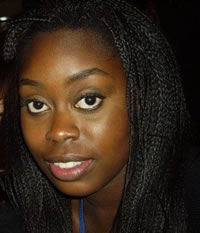 Lorraine Berchie of Acton trained with the Mama Youth Project and now works in Drama.
Mama Youth Project helps young people from disadvantaged backgrounds get jobs in television industry
A Park Royal -based media training organisation for young adults is facing an uncertain future as its funding dries up. The MAMA Youth project (MYP), founded in 2005 by Bob Clarke is calling on television and media companies to help them out.
MYP is a unique and innovative training organisation, working with young adults from Black, Asian, Minority and Ethnic (BAME) groups from deprived and disadvantaged backgrounds, to provide development and employment opportunities within the television industry.


Clarke, who received the Cultural Diversity Network's special recognition award says it's time for media companies to step up to the plate. "There are a stack of successful stories and achievements, but we will collapse if we do not receive urgent funding from the television industry." he says.
"A few companies have helped but it needs the industry as a collective to support MAMA Youth project. After 28 years of talk, its now time for the industry to put the money where it's mouth is.'
Bob was inspired to establish the charity after being told that there are not enough people of colour working in the industry.

Despite coming from a disadvantaged background, Bob has managed to forge a successful media career and wanted to use his skills and experiences to ensure that talented young adults have an opportunity to be employed in important positions in TV. MYP spend 6-8 weeks on the training programme, learning a specific prodcution role.

Lorriane Berchie, 23, of Acton is one of MYP's success stories. She saw an ad on the internet and applied. Berchie now works in the drama department of ITV but says the MYP project gave her that extra foot in the door. "People like me, who had no inside contacts, can really struggle to get opportunities or experience. Organisations like MYP really enble young people to get their first taste in working in the television industry."
16 February 2011