Advocacy groups says welfare should have been assessed first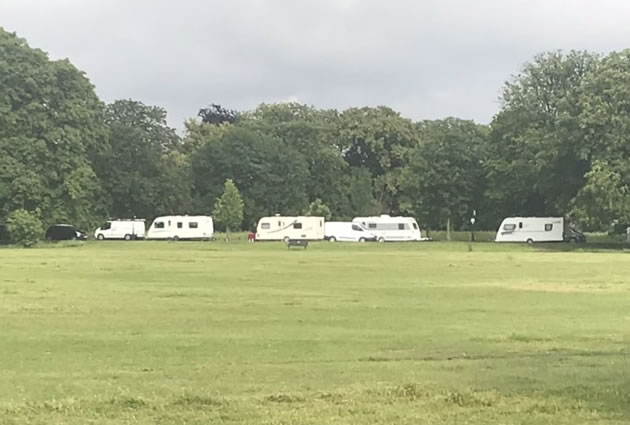 Picture: James Fuller
The moving-on of travellers from Ealing Common within 90 minutes of their arrival has been called "inhumane" by one advocacy group.
The speedy action on Friday afternoon was heralded by Councillor Joanna Dabrowska as proof the current injunction against encampments on public land works.
However, London Gypsies and Travellers Chief Executive Debby Kennett said the action was "shocking".
She said, "It provides evidence that councils are using injunctions to side-step government guidance on unauthorised camps.
"This says that councils should undertake a welfare assessment of families, in the health and needs of children, before taking any further action.
"This clearly could not have happened in 90 minutes. Such an inhumane response to the needs of families is not a success and should not be celebrated."
Ms Kennett said the solution to finding travellers sites to settle was a managed approached, identifying more suitable land to relocate to, and providing more areas with basic facilities.
She said: "Because of the lack of caravan site provision for gypsies and travellers, the injunctions simply push them to stop on the roadside in other areas.
"Across London, just 10 new pitches have been built out of over 800 identified as needed in a study commissioned by the London boroughs in 2008 and there is no provision of transit sites or stopping places."
Councillor Dabrowska, a Conservative, said she only had a problem with those who flouted the law.
She said: "Encamping on any land without authorisation is illegal, therefore, why do some people continue to do so? I only have a problem with those flouting the law. It's as simple as that.
"As part of my injunction petition last year I also requested additional legal pitch provision for those living a travelling lifestyle, effectively it's equivalent to affordable housing for non-travellers, to improve accessibility to housing, welfare and education.
She said existing London camp sites are full and have near-zero turnover and despite having nearly 300 unauthorised encampments in the last few years in Ealing borough alone, the Labour-led local authority had identified no current or future need for additional pitches, despite central government identifying the need.
She said, "Ealing Council explicitly requested I take this issue out of my petition before publication, which I refused."
"My question to those who break the law and encamp illegally, is why? Why leave a mess that the taxpayer has to pay to clean up?"
An Ealing Council spokesperson responded to the criticism from London Gypsies and Travellers by saying saying the encampment left voluntarily, and therefore no actual eviction notice was issued.
The spokesman said, "Welfare considerations are always taken into account before any decision about an encampment is made."
The current injunction gives police the power to remove anyone who camps on the borough's open spaces, housing estates and car parks.
It also bans caravans, mobile homes, vans and lorries from coming onto public land and setting up camps or dumping waste on it.
A three-year injunction may be on the cards, but the council appears to be waiting on a separate decision over a similar injunction relating to fly-tipping sought by Bromley Council, which was challenged in the High Court.
Ealing's interim injunction will remain in place until a decision is made in the Bromley case.
Ged Cann - Local Democracy Reporter

August 20, 2019