Acton Central and South Acton only available early morning on weekdays
Ticket office opening hours at local London Overground stations will be cut over the next few weeks, Transport for London (TfL) has announced.
Acton Central's ticket office will from 6 February be open only from 7.30am to 10am on weekdays and close all weekends. It previously was open Monday - Friday 6:45am - 8:45pm, Saturday 7:15am - 2:15pm and Sunday 9:15am - 4:30pm so the new hours represent a reduction of 85%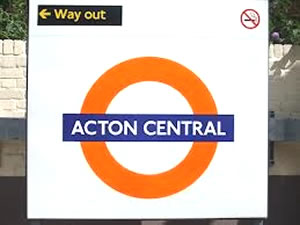 South Acton switched to reduced opening hours just before Christmas and is now only open from 7.30am to 10am on weekdays and closed at the weekend. This represents a reduction of nearly a quarter in opening hours.
TfL and Overground operator Arriva Rail say fewer passengers are buying tickets from staff as contactless cards become more popular.
But RMT union says the cuts are designed to increase company profits.
Last year, Arriva Rail said it would completely close ticket offices at 51 Overground stations – but reversed plans after a backlash from staff and members of the public. The company has now agreed to keep offices open at the busiest times of day.
All Overground stations will remain staffed throughout their opening hours, and there will be no changes to train timetables.
TfL Overground manager Rory O'Neill said: "The way customers want to pay for their train fares is changing with fewer visiting a ticket office at the start of their journey.
"These planned changes will help ensure the ticket offices are available when customers need them."
There were one million fewer sales at ticket offices last year compared to 2018. Two per cent of Overground tickets are bought at a manned desk.
But RMT general secretary Mick Cash said any claim that changes were for customer benefit was "disingenuous".
He said, "However TfL and Arriva Rail London try to dress this up, they are ploughing on with damaging cuts in the face of clear passenger opposition.
"RMT has opposed these cuts from the outset because they will be detrimental to passengers, and in particular disabled and elderly passengers.
"Violence and crime on the railways is soaring – Arriva Rail London and TfL's decision to decimate ticket office hours and staffing will only serve to make stations less secure and safe"
Written with contributions from Jessie Matthewson - Local Democracy Reporter
January 8, 2020