Fire was 'white hot' - cause still under investigation

Four fire engines and around 20 firefighters were called to a fire in a shop with flats above on High Street in Acton last night. Half of the ground floor of 7, Acton High Street was damaged by the blaze and there was heavy smoke throughout the building. The fire appears to have started in the front of Newcom Electronics, a business selling appliances and computers. The owner of the business told ActonW3.com that he did not want to be identified, but he had little information about the fire.
According to eyewitness Nicholas Thomas, 36, who lives directly opposite the shop, the fire spread very quickly and was white-hot.

"My friend Sean called the fire brigade. We came out and saw the fire. We could actually feel the heat from the bus-stop nearby," Thomas told ActonW3.com. "We saw one guy come out but he said there was someone else asleep upstairs so he was phoning him. We shouted up and I knocked next door to tell people."
Thomas said once the fire brigade arrived 10 minutes later, the fire was out very quickly.
Two men were led to safety by fire crews wearing breathing apparatus via an internal staircase.
The Brigade was called at 2319 and the fire was under control by 0004. Firefighters from Acton, Chiswick and Ealing fire stations were at the scene. The cause of the fire is under investigation.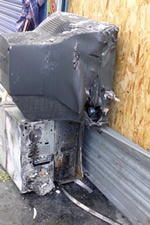 Burnt electronics equipment outside 7, Acton High Street this afternoon.
14 February 2011