26 artists showing on Acton High Street this April
The Acton Open exhibition has returned to the W3 Gallery for a second year.The picture showing features 26 artists in a wide range of styles, and promises a 'taste of West London's creative community', according to a press release by the Gallery.
The Acton Open, which opened yesterday (26th March), will continue until 26th April at the W3 Gallery on Acton High Street. It is the second time that the gallery has hosted the annual exhibition, the last being in 2004. The artists on show come from a number of different backgrounds and work in a number of different styles, bringing to bear their experience in a colourful variety of creative industries.

Featured artists include John Lloyd Williams. Originally from Wales, he has lived in London for over 40 years, mostly in Hanwell. A recent retiree, John works in oil, watercolour and pastel, mostly on figurative landscapes, but also a range of other genres.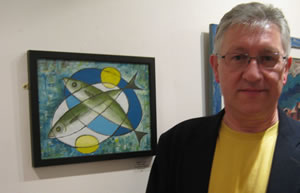 (Williams with his 'Fish & Lemons', made using oil on board)
Sormeh Torabi, raised in a traditional household in Tehran, worked as a graphic designer in Iran and is currently residing in the UK. She has provided a pastel and pencil work entitled 'Madiba' for the exhibition.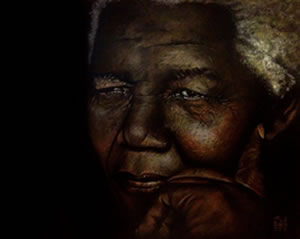 ('Madiba', in pastel and pencil by Sormeh Torabi)
Marek Jakubowski gained a Masters in Architecture from Warsaw Technical University, and worked as architect for the Polish Archaeological mission in Egypt, Sudan, Cyprus and Syria. He has lived in London since 1972, and is a member of the Association of Polish Artists in Great Britain. He has offered up a photograph of 'Jerusalem Alley' for the exhibition.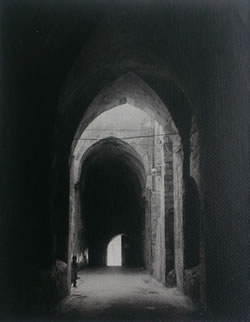 ('Jerusalem Alley', photograph by Marek Jakubowski)
For more information, go to the W3 Gallery's web site.
April 1, 2015