'Sentience' opens 10th - 27th January
Participate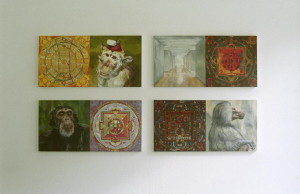 Local artist Mark Wydler presents his new solo exhibition of paintings, 'Sentience', at the brand new W3 Gallery in Acton High Street.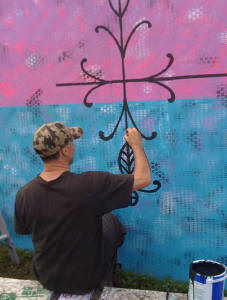 Here is an exhibition which explores the nature of animal consciousness and its relation to our own, the correspondences and differences. The paintings use the forms of geometry and pattern as an analogy for the inter-connectedness and unseen, subtle order that underlies what we see of the world. It counters the idea of a hierarchy of the importance of species, suggesting instead an equal value and significance to all living things, despite huge variation of size and type of intelligence.
Mark is well known in the local area as one of the founding members of The Treatment Rooms Art Collective. This radical group of local artists has gained much notoriety in the last few years for having mosaiced a house and truck and many of the well-loved mosaics in the local schools.
For this solo show though, he is concentrating on his talents as a painter. He here presents an exhibition of paintings that asks serious questions about the way we treat animals and our wider environment in today's society. The private view is at from 6-9pm on this Thursday 10th Jan and everybody is welcome to attend.
He is passionately committed to social engagement with art, and as part of this show you can look forward to Mark speaking at a lively debate on public art to be held in the gallery on the evening of the 17th Jan, from 6.00 to 8.00pm, which also includes the speakers Carrie Reichardt and Cosmo Sarson, both represented by the West London Art Factory.
Exhibition continues till 27th Jan. at W3 Gallery, 185 Acton High Street, London W3 9DJ.

8th January 2012