Latest information on policing in W3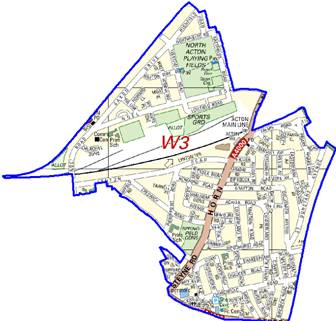 General update
The Local Policing Model (previously discussed) is due to be implemented around the middle of this year. The shift pattern is likely to remain very similar.
This quarter has, as always, been very busy, but contained some very positive results.
The team have been loaned an additional PC as part of the Chief Inspectors 'flex-aid' concept, due to the wards current exceptional demand. PC Tony Pierce, loaned from Northfields Ward, has been as asset to the team and is with us until 21st August 2013.
Crime Figures and Trends
| | | | | |
| --- | --- | --- | --- | --- |
| | Dec '11 | Jan '12 | Feb 12 | total |
| Burglary dwelling | | | | |
| Burglary non dwelling | | | | |
| Crime dam | | | | |
| Drugs | | | | |
| Robbery | | | | |
| Violence | | | | |
| Fraud/Forgery | | | | |
| Theft/handling | | | | |
| | | | | |
| --- | --- | --- | --- | --- |
| | Dec '12 | Jan '13 | Feb '13 | Total/increase decrease |
| Burglary dwelling | | | | 43 (30.30%) |
| Burglary non dwelling | | | | 9 ( - 10% ) |
| Crime dam | | | | 27 ( 3.85% ) |
| Drugs | | | | 26 (13.04%) |
| Robbery | | 7 | | 15 (7.14% ) |
| Violence | | | | 74 (-10.84% ) |
| Fraud/Forgery | 5 | | | 11(-26.67% ) |
| Theft/handling | | | | 119 ( 0% ) |
Current Emerging Trends
Residential Burglary in the Noel Road/Saxon Drive vicinity
The Ward team, in conjunction with the Council's Safer Communities Team, has commenced a process of 'target hardening' the Noel Road/Saxon Drive area. As a result, over the coming months, Police will be visiting all of the premises within these roads and offering various services including alarm systems and other security measures.
Residential Burglary in the area east of Horn Lane
It has become apparent that there is an emerging burglary 'hotspot' in the area to the east of Horn Lane, W3. This includes Goldsmith Avenue, Emanuel Avenue and Grafton Road. Police have proactive activity underway, but in the meantime appeal for extra vigilance. Should you see anything suspicious, please do not hesitate to dial 999.
Action Undertaken by the Team
CUBO 2 operations to tackle uninsured/licence vehicles have been undertaken by the team since the last meeting. Most recently an operation took place on Hanger Lane and The Vale, during which around 200 vehicles were stopped resulting in 3 arrests for drugs, 8 vehicles being seized, 3 people being summonsed for drugs and traffic offences and 9 fixed penalty notices being issued.

Warrants 5 warrants have been executed on the ward since the last meeting. Of note Officers from the local Safer Neighbourhoods Teams, Metropolitan police special constables and other officers executed drugs warrants at two cafes on Churchfield Road, Acton. Persons present within the cafes were searched for drugs. At one café, two persons were found in possession of small amount of cannabis and both received street drugs warnings. At the second café, a person was found in possession of numerous bags of cannabis and was arrested for Possession with intent to supply. A further search revealed he was also in possession of a CS gas spray. Given this is an ongoing investigation, the police are limited as to what additional information they can make public at this time.

During another warrant, executed on the Friary Park Estate, a male was arrested for possession of class A drugs. Within the address evidence of continued substantial drug use was discovered. As a result, Acton Central SNT were successful in gaining approval from Feltham Magistrates Court for the address to be closed as a 'crack house' under provisions of the Anti-Social Behaviour Act 2003.

Dispersals/Ward Priority Work 24.03.2013 Officers from Acton Central SNT undertook a further 'day of action' in relation to the problem of anti-social behaviour in the High Street area. During this operation 1 arrest was made, together with 15 alcohol related to dispersals. The team are currently looking at instigating a formal dispersal zone in the High Street area, under Anti-Social Behaviour Act legislation, to ensure that there is not a spike in criminality over summer months.

ASBOs/Injunctions/ABCs Acton Central gained an Anti-Social Behaviour Order (ASBO) in relation to a male locally know as "Biggy", AKA Barry Barrow, the contents of this will be made available for public viewing locally.

Further to this, due to an arrest made by Acton Central Safer Neighbourhoods Team, a female subject to an Anti-Social Behaviour Order in Eastbourne Avenue was sentenced to 12 months imprisonment at Isleworth Crown Court on 04.04.2013 .
Crime Prevention
Register any items with serial numbers on approved websites e.g. immobilise.com. Should include SatNavs, mobile phones, laptops, pedal cycles etc.
Elderly/Vulnerable Persons Scams - Let us know if there's anyone you wish us to visit, can take "big book of little scams".
Community Engagements
Recent Engagements:
Acton Central have had had 3 Street Meetings since the last Panel meeting. They are at key locations of King Street Acton - outside Morrisons, Churchfield Road - outside Acton Central Overground and Saxon Drive outside West Acton Overground. They have been well attended, but please encourage others to look at details of these on our website.
Acton Central launched a Business Watch on 17.04.2013. This activity centres on information sharing in relation to Police information and the sharing of best practice to reduce retail crime in the Acton area. This activity is open to any retailer, big or small and any interested parties should contact the team.
Upcoming Engagements:
Next 'Street Briefing' is on "The Mount" at 1700 on 20.04.2013
Ward Priorities
Alcohol related anti-social behaviour in the vicinity of "The Mount" (inc outside Morrisons, Acton High Street and Churchfield Road)
Subject to continued problem solving activity with work towards a further dispersal zone. Acton Central will be publicising details of associated ASBOs both physically (by way of posters and message boards) and in the local media
Burglary in the West Acton area
In January 2013, Acton Central Safer Neighbourhoods Team carried out a proactive operation designed to tackle burglary on the ward. During this both covert and overt methods were employed to positive effect. The team of 1 Sergeant, 2 PCs and 3 PCSOs made a total of 8 arrests, 3 PCSO detentions (leading to arrest), 27 dispersals, 49 stop and accounts, 25 stop and searches, 2 cannabis warnings and 1 fixed penalty notice for cannabis. The arrests made consisted of arrests for theft, possession of an offensive weapon, drugs offences, Public Order Act offences, wanted on warrant and the breach of an anti-social behaviour order.
Within these results was the arrest of a male for possession with intent to supply cocaine, which transpired to have a value of around £800,000. As a result of this arrest, the male was sentenced to a term of 5 years of imprisonment on 21.03.2013 at Isleworth Crown Court.
Anti-social behaviour (ASB) on the Friary Park Estate
There have been numerous complaints over the previous quarter dispute the execution of numerous warrants and proactive Police patrols. This has become an area of key concern, particularly bearing in mind recent incidents involving violence. The team is problem solving the matter with Catalyst Housing and looking to target the responsible individuals. The team is also applying to implement a dispersal zone.
The ward panel discussed this priority, in relation to others, at length. This now supersedes the priority previously in place in relation to stolen goods (below).
Upcoming Priorities
Drugs activity in the area of Churchfield Road area - Seems to have died down recently - seems more of an issue in summer months
Sale and receipt of stolen goods in the Churchfield Road and Acton High Street areas - number of arrests made this quarter
Retail crime in the Acton High Street area still persists as a problem, with Morrisons being one of the worst affected shops in the Met - On 30.03.2013 Acton Central SNT, working in conjunction with Morrisons Security Officers, carried out a plain-clothes revenue protection operation. This resulted in 2 arrests, 3 fixed penalty notices for theft, 6 banning notices and 10 stop and search.
Any Other Business (AOB)
Action Points:
Efforts are underway to contact the local Mosque in a bid to attract a Muslim representative's to the ward panel.
The committee agreed they would encourage local residents to contact Ealing Council regarding speeding along Churchfield road as concern was raised again. (Particularly in area near Acton Central train station).
The committee to think about ways that the ward panel members can engage with residents about the work of the SNT.

Example. SNT and local charities working together to not just disperse problem such as alcohol anti-social behaviour, but to offer support by means of outreach programs and other ways to ultimately change behaviour.
Example: SNT working with Street Pastors who patrol the streets late at night to offer support to those that need it.
Panel Structure:
New Panel Chairman
Mark Barrett
New Panel Secretaries
Carl Tamboli
LJ Pearce
Community Concern SPOC
Ross Bogert
Ward Panel email: actoncentralwardpanel@groups.live.com
Acton Central SNT website address (and contact details): http://content.met.police.uk/Team/Ealing/ActonCentral
Acton Central SNT email address: ActonCentral.SNT@met.police.uk
Next Meeting
4th July 2013 at 1900 Hours