Wild West fete Saturday 2nd July

Acton based artist Rachel Tooth is donating a dedicated piece of art to St Vincent's Roman Catholic School, which will be auctioned at the school's 'Wild West' summer fete on Saturday 2 July at the school in Pierrepoint Road.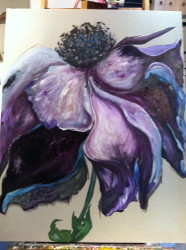 Rachel, who has a daughter in Year 6 at the school says:
"I am delighted to be able to give something to the school in this way. My youngest daughter leaves St Vincent's this year so it is with particular significance that I offer my last picture for sale for the benefit of all the future children at St Vincent's."
The painting is a close up of a beautiful anemone entitled 'Fading Beauty', measuring 800mm x 1000mm and is oil on linen with charcoal. The Auction will take place at approximately 3.30pm during the school fete to be held at St Vincent's School on Saturday 2 July from 12pm – 4pm. The fete and the auction have been organised by The St Vincent's Parents and Teachers Association (PTA).
Rachel's work typically sells in the range of £500 - £1200 depending on the canvas size. Please come along to the fete and bid!
The St Vincent's Wild West fete includes a Bucking Bronco, Shooting Gallery, Totum Joust and Beat The Goalie as well as more traditional activities such as Hook A Duck, Lucky Dip, a Children's Tombola, Candy Necklaces, Face Painting and hair-braiding, not to mention Bottle Stall, Toy Stall, Gift Stall and Bric a Brac stalls and a vast selection of International Food provided by the school community.
Tickets are £3.50 per adult which includes a free brochure, cup of tea and biscuit and children go free.

1 July 2011