Reynolds Sports Centre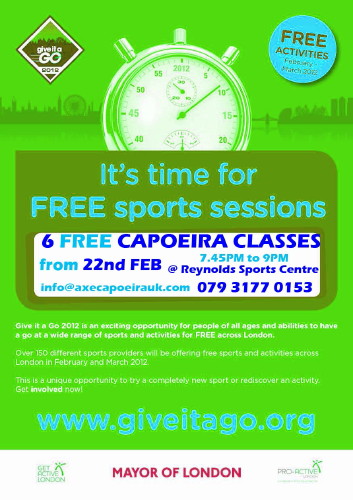 Give It A Go is a legacy programme designed to encourage residents of London in to regular participation with your sports/physical activity club or organisation in the lead up to the 2012 Olympic Games.

We've been selected to deliver the project in Acton:
6 FREE CLASSES OF CAPOEIRA
(for up to 20 people aged between 11 – 50 years old)
STARTING 22nd FEB
Where: Reynolds Sports Centre (W3 8EY)
When: Wednesdays 7.45 - 9 pm
Contact : Marcus Cabeça
Tel: 0793 177 0153
Email: marcuscabeca@axecapoeirauk.com
The scheme is designed to give people the opportunity to try out new things, make new friends, learn new skills and discover new talents. It aims to provide funding to help remove the barriers that stop people from lower income families attending sporting clubs. It's such an important scheme to us because we know that taking part in physical activity can have a huge impact by helping to increase self esteem, confidence and independence. For this project to be a success, PEOPLE NEED TO KNOW ABOUT IT.
21st February 2012