Saturday 14 May at St. Mary's Burial Ground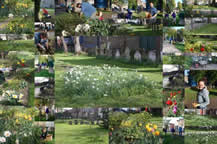 Participate
FRIENDS OF ST MARY'S BURIAL GROUND
SPRING PLANTING DAY
SATURDAY 14 MAY 2011
2-4pm
Come and plant out sunflower seedlings and summer flowers, do a spot of weeding, pick up some gardening tips and have some cake.
By the end of this summer we're aiming to have a parade of sunflowers brightening up the burial ground and Churchfield Rd.
St Mary's Burial Ground is on Churchfield Road, Acton
(next to The Oaks Car Park)

The Friends of St Mary's Burial Ground will be meeting the second Saturday of every month to work as a community to improve our local green space in the heart of Acton.
Please come and join us. Bring along some gloves, a trowel and lots of enthusiasm!
If you want to find out more come along and have a chat or contact: camilla_phelps@yahoo.co.uk for more details
09 May 2011