Old Oak Children and Families Centre to held event on Wormwood Scrubs
The children at the Old Oak Children and Families Centre in East Acton have come up with an innovative plan for an event this summer.
The youngsters who live locally (on the surrounding estate) and who regularly attend the After School Club sessions at the Community Centre will be cooking and hosting a 'mass picnic' pop up for their parents, carers, staff, the local community and teachers from their schools on Wednesday 8th July.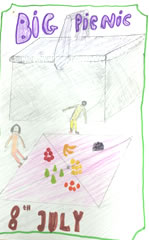 The innovative aspect of this is that the children will only cook using food from the following sources that have either been foraged from edible plants and trees on Wormwood Scrubs, grown in the community garden which they themselves care for or donated by local businesses.
One of the adult organisers told us that the children are learning and it is important that they continue to learn about food waste, being responsible for their own sustainable environment and self-sufficiency.
Those who attend will be able to pay for what they eat on a 'Pay As You Feel' basis. So they pay what they feel the picnic is worth! This will help to raise funds for the After School Project.
This concept ties in well with current issues such as food wastage, food shortage, poverty and also forward thinking groups who are working to encourage the UK government to follow as France have done by forcing supermarkets to give unsold food to charities

The children came up with the idea for the 'Big Picnic' and are busy organising and will run the event themselves. The afternoon will also celebrate the hard work they have done to transform the community garden. This has been organised and will completely run by themselves.

June 25, 2015